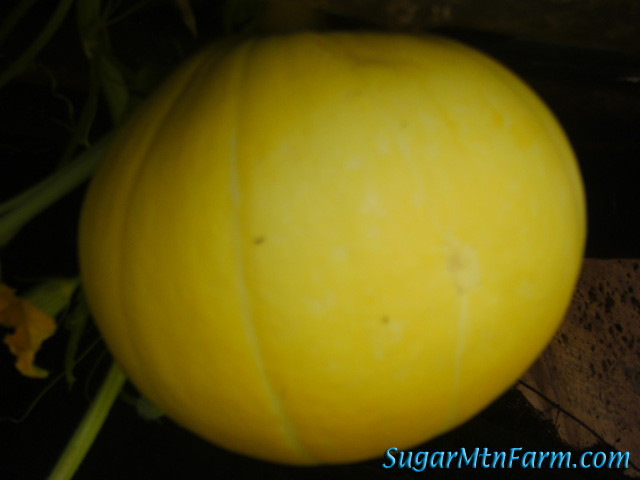 Wonka Pumpkin Hanging Out
We grow pumpkins during the summer in the areas which were used by the livestock during the winter. These winter paddocks are summer gardens and full of nutrients for heavy feeders like pumpkins. Sometimes the pumpkin vines will climb up the sheds and produce fruit that are hanging from the beams like this one above. It looks like one of the fruit in the
Willie Wonka & the Chocolate Factory
movie during the early part of the tour.
I'm pretty sure that pumpkin above is from Atlantic Dill Giant Pumpkin genetics. I took the photo while it was still fairly young and it never got over maybe 50 lbs. It stayed very round to the end. It is amazing how strong the vines get when they must support the hanging pumpkin. With some other types of pumpkins that I have grown hanging like that they end up growing very long instead of staying round. Usually the giants come out looking deformed when they're grown on the ground. I wonder if the hanging caused this one to stay rounder. Perhaps this is a secret to growing well formed giant pumpkins. Somehow I doubt the vine could support the 1,500 lb or greater record holders! Unfortunately the one pictured did not mature enough to have good seeds to save due to our short growing season and it's late start in mid-June.
When we let the weaner pigs into this garden they behaved much like the adults and children in the movie, gobbling up all the candy.
Outdoors: 55°F/39°F Mostly Cloudy
Tiny Cottage: 66°F/65°F
Daily Spark: A penny pinched is still thin.