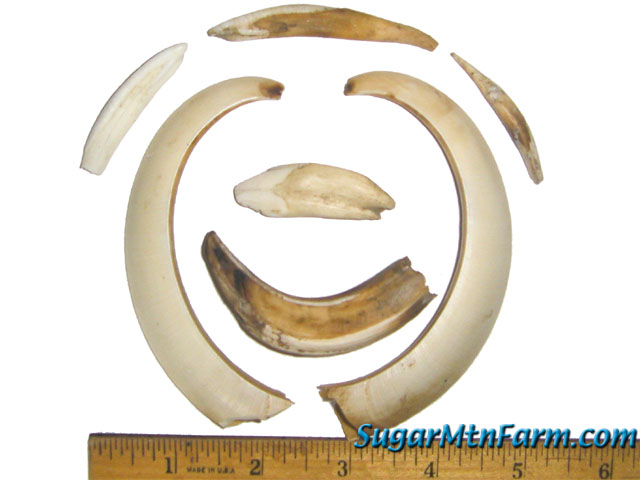 Sow Tusks
People think of tusks being a boar thing but sows can have pretty big tusks too. The above big tusks came from a sow who died on the farm. After the body had mostly decomposted in the
compost pile
I collected the teeth.
One interesting thing I have noticed across the many tusks I've seen is that the boar tusks tend to be circles while the sows tend to be more of an oval. So far I've not had a complete circle from a boar and the sows tusks grow much slower so I doubt I'll ever see a circle from them. Both are deeply embedded in the jaw. On the sow only a small bit extends out of the gums. Looking closely at the tusks above you can see the worn tip and then a bit behind it the exposed potion is colored differently than the embedded tusk.
The thicker second biggest tooth is an upper tusk from a boar that I found in the same compost pile. There are also some incisors and other teeth in the photo. I once read someone in a newspaper claim that pig teeth were just like human teeth. If your teeth look like this, please let me know!
You can see more tusks in these articles.
Outdoors: 55°F/40°F Partially Sunny
Tiny Cottage: 67°F/65°F
Daily Spark: Why is a banana like a dead skunk? Both are best before they're ripe.