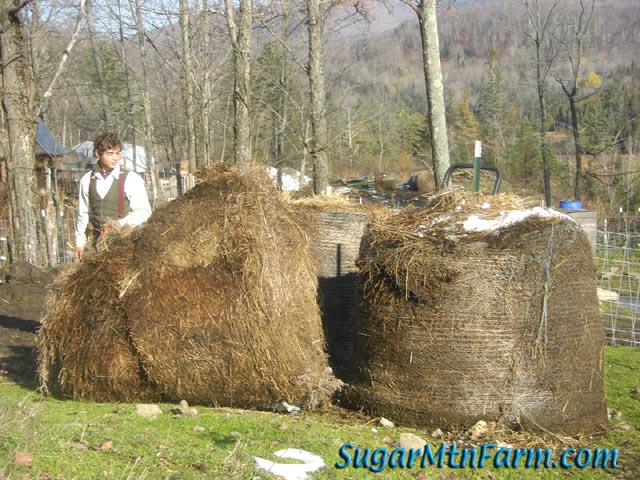 Will and Staked Hay
Will and I staked some bales of hay in the Underhill winter paddock to keep them from rolling downhill. 800 lbs of hay rolling down the mountain is not a pretty sight. This is a bit of an experiment. The pigs tend to tip the bales as they use them and I didn't want the hay to go into the fencing. It is ideal if the winter paddocks are sloped which helps to minimize the mud come spring. Underhill does not look very sloped in this photo but it is.
The posts are 5′ long steel. The first one Will drove down through the bale as normal. The second one Will drove into the ground and then I lowered the bale on using the tractor. Both methods worked well. When these bales get used up we can set additional bales on them. Interestingly, the hay is being used more slowly on the staked bales than comparable non-staked bales.
Happy 11/11/11! And Veteran's Day too!
Outdoors: 46°F/26°F Sunny, Cloudy, Light Snow
Tiny Cottage: 69°F/67°F
Daily Spark: What doesn't kill you hurts. -R.M. Morgan