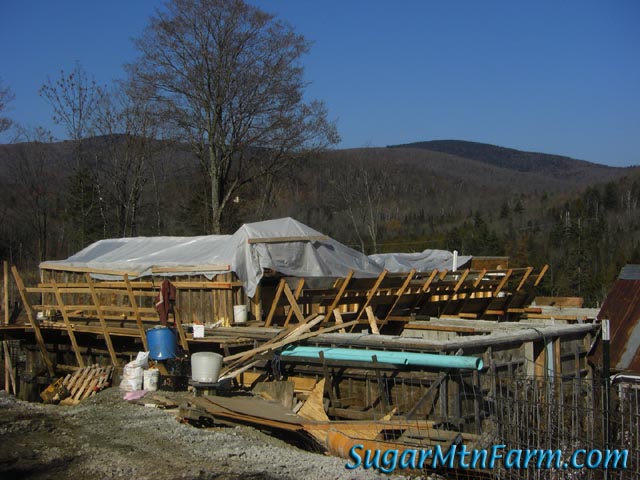 Butcher Shop Covered
After our big pour
yesterday
of the reefer ceilings we watered the concrete and covered it with plastic tenting to create a greenhouse effect which will retain heat and moisture to speed curing during our cold weather. Most of the concrete is between insulated forms but the top is exposed to the sky, thus the plastic.
The concrete will gain about 2/3
rds
of it's strength in the first week and then we'll pour the Freezer-Chiller-Brine (FCB) floors in two layers plus the next layer of the ceiling vaults which will cover the steel reinforced concrete beam that runs the length of each room. I did the ceiling pour as two separate coats so that the first one can help support the enormous mass of the second pour. We left the first pour very rough with some steel sticking out to bind the two together at their cold joint.
Now for a few days we will turn our attention to the long list of farm chores to get ready for winter. Water lines, fencing, winter paddocks, shelters, hay arranging, wind breaks, whey feeder systems, tank insulating, driveway grading, sand, etc. In about a month we'll be frozen in.
Outdoors: 63°F/33°F Sunny
Tiny Cottage: 70°F/67°F
Names of Note: Tony Suckling sells pig feed –Pig International 201109 page 11