The Happy Couple & Their Builder
The happy couple with their builder Dr. Frank N. Stien and his faithful assistant Jack.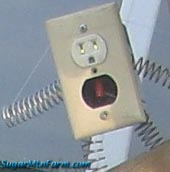 Jack E. Gore,
Faithful Assistant
Halloween costumes are something that we spend months thinking about and then begin building in October. See some of the past year costumes for more fun!
Outdoors: 52°F/30°F Sunny
Tiny Cottage: 66°F/65°F
Daily Spark: The existence of bad laws and regulations does not justify the implementation of more.
Also see:
Halloween 2015
Halloween 2014
Halloween 2013
Halloween 2012
Halloween 2011
Halloween 2010
Halloween 2009
Halloween 2008
Halloween 2007
Halloween 2006
Halloween 2005