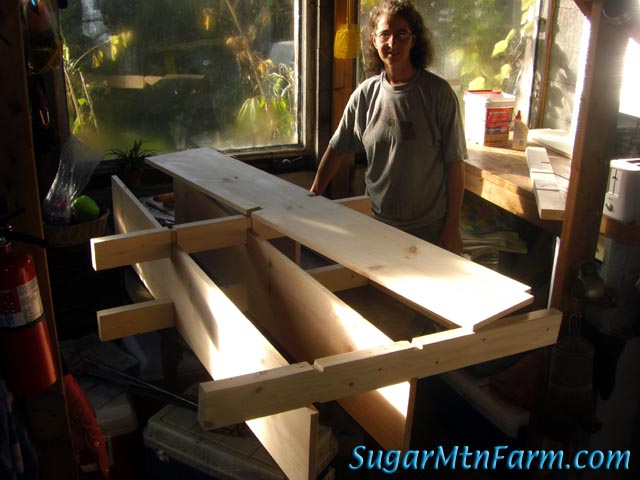 Shelf Puzzle Pieces
The butcher shop isn't the only happening thing on our construction schedule. A lot of other little construction projects are always on the drawing board, materials being gathered and in the works. The pantry shelves are one example – they just got put up.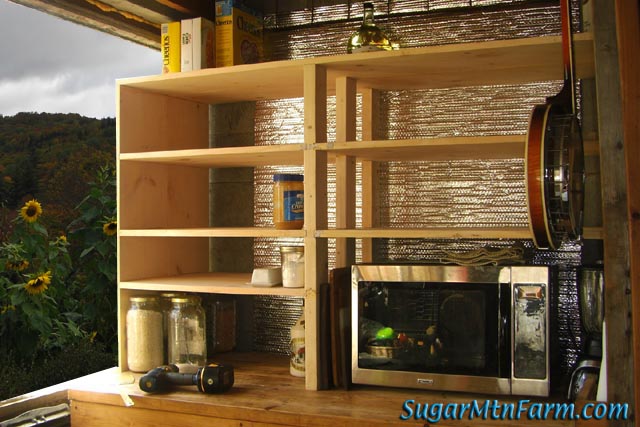 Shelves Up
Since we moved into our
tiny cottage
four years ago we have been using crates for shelves. They work but are inefficient space-wise. So I designed a set of wooden shelves to replace them that would optimize the use of the small volume we have for our pantry. The new shelves offer about three times as much storage yet exist in the same location – the difference is how the space is used to efficiently store the things we use. Much of what we have is in mason jars so the new pantry shelves fit mason jars just right.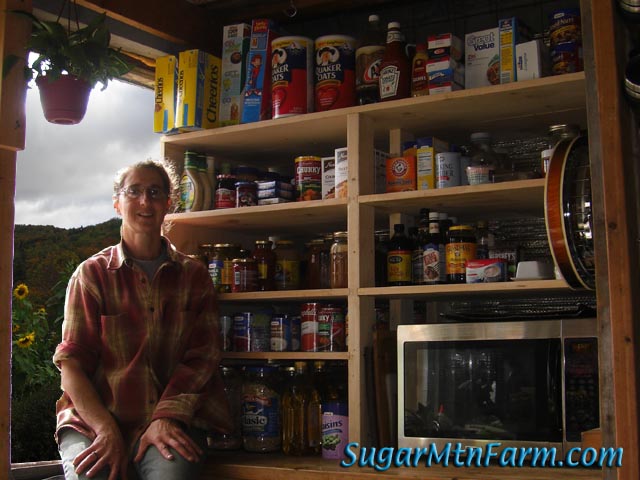 Shelves
I was very good as even a young child with the little wooden puzzles, rope puzzles, metal ring puzzles, etc. Good spacial relations and memory of the patterns I've tried served me well. Over the years I've done a lot of construction projects that were like those puzzles. Sometimes house sized puzzles. The pieces of wood all slid and snapped into place so that few if any screws were needed. In the end, for a weight bearing project like this made of thin boards we do use glue and some key screws to lock it together. The kid's loft bed in the old house was an example as was the bed we build myself. Various scaffolding and trusses are similar. The pantry shelves are a very simple one of those wooden puzzles. Getting them into place, already fully assembled, was the last move of that puzzle and the hardest as it was such a large piece.
I'm good at doing the design and assembling the puzzles. My partner in crime on the other hand is, as she puts it, "hopeless with those puzzles." However, she is very, very good at following precise cutting instructions that I write up for her. She can make the parts. She's a dadoist – has blade, will cut. Has clamps, will glue. She has great patience for getting the puzzle pieces right, turning rough lumber into furniture. In fact, when I met her she was a cabinet maker working at Dana Robes in New Hampshire. When she's done with her woodworking tools she ends up with a pile of elegant hunks of wood. A puzzle. Fortunately she has faith, in me, that I'll be able to put it together. As she has often said, she has no clue about the parts or whole or what it will be like until I assemble it. She cut them so exactly that the elements of wood lock together – if you know how to assemble the puzzle. My turn. Usually we then snap it together quickly. Sometimes instead I write her an assembly manual and she can put it together following the directions. And voila, she sees the finished object.
I design. She constructs. Together we're a team and make all sorts of fun stuff.
The butcher shop is like a giant puzzle that our whole family is putting together. It takes years. There are a lot of parts and pieces. All of us are working toward a common goal. All of us are fitting the pieces together. Each doing the things we can do. A team. The A team.
Outdoors: 43°F/28°F Overcast, Light Morning Snow, No Accumulation
Tiny Cottage: 65°F/64°F
Daily Spark: There is little difference between portent and potent, between potion and portion, between important and impotent.