Sugar Mountain Farm Butcher Shop in Progress
On another post Kate in Woodstock
wrote
:
Hi Walter,

Thanks so much for making your venture accessible to the public… It is because of people like you that progress in sustainable farming and homesteading can be made.

A question for you- You've stated that your 1,300sqft facility will cost you approximately $150,000 for both the building and equipping of the shop. Could you off-hand provide me with a breakdown of that figure? I'm interested to know how much investment is needed in building supplies versus processing equipment/tools.

Another question, if you don't mind- Does the USDA provide any literature about space requirements associated with maximum animal capacity for the facility, and if so could you share the link? Thanks again for your efforts!

-Kate,
Woodstock, VT
I'll be doing a post some time about the costs break down but here are some really rough numbers. The proportions come out something like this: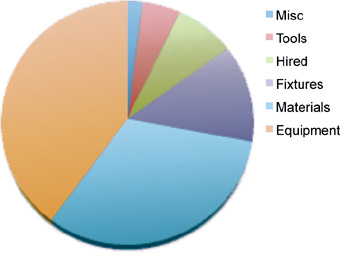 Hard Construction: ~32%
Outside Construction: 8%
Moveable Equipment: ~40%
Fixed Equipment: ~13%
Tools: 5%
Misc: 2%
This means that the actual building should come in around $90,000 or so with equipment making up about $60,000. Since I originally made my budget costs have gone up a bit plus I decided to buy a more expensive dehairer so our equipment budget may come in closer to $80,000 by the time we open.
Realize we have some special considerations that keep our budget lower than most places that hire everything done because we have:
No cost for land since we already own the land on our farm,
No costs for bank financing, closing fees, points, etc since we financed through our own cash flow, CSA Pre-Buys and loans from a number of individuals,
No cost for feasibility studies, consultants, architects, construction engineering & design as I do all that,
No cost for labor since we're doing all the work ourselves,
No cost for most of the tools since we already owned them and
Minimal permitting costs since we're on-farm and only doing processing for our farm.
There were a few things we hired out such as placing the transformer on top of the 40′ high utility power pole (but we did do the 340′ of underground electric and the pedestal ourselves), septic design (required to be hired out by state law), propane hookup (regulatory requirement) and I'll have a refrigeration technician working with us (again a legal requirement and a special tool for filling). But virtually all of the other work we do ourselves. Labor is a large part of cost of building a facility. Doing it ourselves makes it more affordable which keeps down the debt load and actually makes the project happen. It also keeps us busy, off the streets and out of trouble. Idle hands and all that…
Lastly, realize that this is not final end all and be all for what the butcher shop will look like. The first step is simply bringing butchering on-farm and under our control. We actually built more than we need for that. The shell of the facility is big enough to allow for future expansion. One of the most common complaints I hear is that the initial buildings didn't allow for expansion or weren't big enough.
When we add slaughter we'll only use a bit less than 50% of the 1,300 sq-ft facility. This will consist of about half of Admin, Abattoir and the Chiller. This works since we do all-in-all-out processing. Virtually everything coming in from the farm each week moves out to the stores and restaurants immediately. Only a tiny bit goes into our chest freezer for later sales. We keep our stock out in our fields rather than in the freezer. Think of it as Just-In-Time-Farming.
In subsequent years, as money and time allows, we will finish off the rest of the building and shift cutting into the more spacious cutting room. At some point we'll sub-divide the chiller to allow space for aging beef. Over time we will add the 27°F super cooler, the blast freezer, commercial kitchen, brine room and the smoker. Then will come the warm cure rooms for some specialty meats. We may even setup for making all natural pastured pork rinds – something we're playing with.
As we discover what we want to expand to do we'll have the rest of the old farm house space to utilize for additional charcuterie and other interesting product such as long cured hams, prosciutto, salami, pepperoni and such. A lot of these require long curing and fermenting times to bring out the flavor in the meats. Lots of possibilities. We'll take our time – we like to grow slowly. It is exciting to be getting close.
Beyond building there is another big budget issue: Labor and energy are the highest operating costs for meat processing facilities. We provide the labor from our family. Energy is more challenging. As we built the butcher shop we implemented a lot of special details to keep our long term energy costs down. We plan to do some addition exciting improvements that will further push down our energy consumption. From simple things like solar hot water to the more complex like coolth storage batteries to transfer winter's cold to summer months and other tricks I'll detail in the coming years as we build them. There are a lot of ways that an individual, a family, a farm, a business can minimize its energy and environmental footprint. This pays back in sustainability as well as keeping more of our money in our pocket which means we don't have to grow bigger to earn more income. Green is greener.
---
On the space requirements I have not seen any maximums or minimum requirements given by the USDA. In fact, they steer clear of that, specifically saying that you simply must have space to be able to operate in a humane and hygienic manner that will produce product that is safe for consumers. There are several very good web sites you may be interested in exploring:
USDA Small Scale Meat Processing
Also check out these posts for more links:
I have a large collection of links, reports, feasibility studies and such that I have gathered over the years related to this project. Sometime I will put together a post with links to those to help other people delve deeper into the prospect of D-I-Y nano-scale USDA/State inspected slaughterhouse, butcher shop and smokehouse construction.
I will also do a more detailed budget post after we've opened and we'll then get to see how close our final numbers were to my initial estimates.
This weekend though, we're cranking to get ready for our next concrete pour. Think good weather thoughts!
Outdoors: 52°F/33°F Partially Sunny
Tiny Cottage: 67°F/64°F
Daily Spark: A penny spar'd is twice got. -George Herbert's Outlandish Proverbs, circa 1630