Archimedes 2002-2011
Today we loaded Archimedes[
1
,
2
]. Above he poses in one of his final photos on the south field pumpkin garden that he recently helped clean up. He is an old boar, our third boar, our lead boar. He has served in our breeding herd for close to a decade. For the last three years I have feared he would not make it through the winter, he loses weight during the extreme months but always has managed to make a come back in the summer. This year he is pushing 90 or 100 in pig years.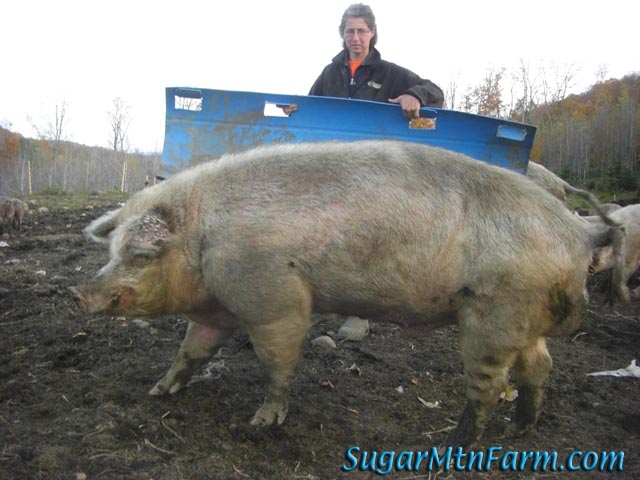 Holly with 6'6″ Sorting Board
Now after the flush of summer he is huge, buff, a beef-cake, with shoulders that brushed both sides of the loading ramp and a back so tall that it nearly hits the top of the inside of our van. Archimedes is a very big boar. In the photo above that is a 250 lb gilt behind him – he's nearly twice her height at the shoulder. In the van he occupies nearly the entire transport area, a space that normally holds six to eight hogs. When he got into the back of our one ton cargo van the rear springs fully compressed. Archimedes is a very big boar.
Archimedes on left in South Field
And gentle he is. You don't get to last that long on the farm if you're anything else but gentle. He's no push over, he takes first place when he wants to eat, but he is gentle, never doing unnecessary harm, never intentionally hurting us – although I did get accidentally cut on my leg once by his razor sharp tusks.
By the way, in the background of the photo above, behind Holly with her 6'6″ sorting board you can see the rump and tail of another much younger boar named Speckles. He may already be bigger than Archimedes. Speckles set a record for first year growth and has continued with that trend.
Archimedes in Transport Van
Archimedes is famous too. He is the boar who did the nude for modeling our famous
Pork Cut Chart
in his younger years when he was under 1,000 lbs. (That was all muscle and still is even at his advanced age – he's no couch potato.) That poster has appeared world wide on farm web sites, farmers markets, stores, restaurants and
T-shirts
. He even starred on BBC-TV. Quite the international celebrity!
So why did we "load" him? It is his time. I have been putting this day off for a long time. But the time has come. It is off to butcher he goes. The gentleman has served our sows for years. Now he'll serve our farm one more time as sausage. Despite how much I like him as a boar the reality is the banker and the tax woman must be paid. The idea that the old sow or boar dies out in the peaceful pastures is quaint but hurts the viability and sustainability of the farm.
Death out in the field of old age often does happen but I try to avoid it. If possible it is better for us to catch them while they are still strong and healthy, before they slip into decline. He has produced many offspring and the meat from him will produce one last boost to the farm that lets everyone else keep going. This is reality.
Archimedes will be the oldest boar we have ever slaughtered. He has produced many hundreds of sons who went to the butcher intact. None of them had boar taint. Likewise I expect that Archimedes will also not have the taint.
I am glad to have known him.
---
Update: Some photos Holly took of Archimedes delivery to Adams Slaughterhouse in Athol, Mass. If you're looking for USDA inspected slaughter, butchering and smoking then check them out. We've now worked with them for over two years and been most pleased. If we lived next door I don't think we would build our own butcher shop – they're that good.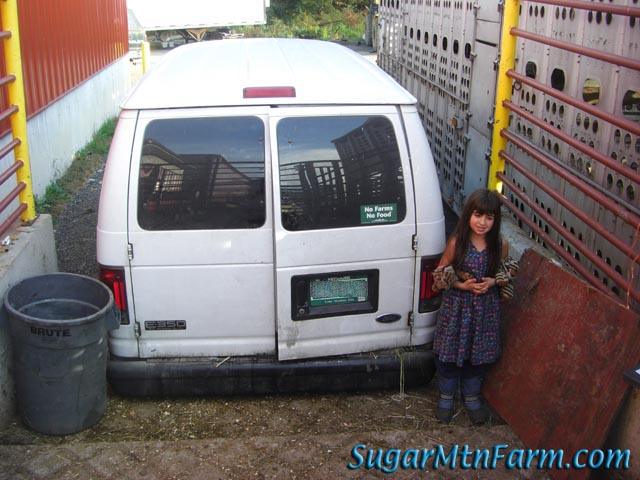 Our Brand new (to us) Extended Body Pig Transport Van (Ford E-350)
Archimedes rode in style inside our van. The back approximately two thirds is an animal transport area. Over the course of the last approximately one decade and three vans our transport has evolved from the little
mini-van
we used to use that held up to four medium sized pigs to now where we can easily carry eight big hogs in a trip as well as having space in the mid-section for a cooler for the meat coming back.
Archimedes Getting Checked Out by the Little People
The big finisher hogs that had been in the loading pen looked small once Archimedes arrived. Check out Holly's comments below about his trip.
Many people have said to me, "why don't you get a trailer!" The issue is trailers and icy mountain roads that we live on are a very, very bad combination. Add mud season on either end. On top of that during the winter I would much rather transport the livestock inside the vehicle with me than let them be exposed to the 65 mph winds on the highway. It is far more humane. Since we take pigs to market weekly the capacity of the extended body van works well for us and then we get to use that same space for back hauling. We virtually always run full – a secret in trucking to making every mile pay for itself.
Outdoors: 67°F/43°F Sunny
Tiny Cottage: 70°F/67°F
Daily Spark: I would rather be a failed perfectionist than a perfect failure.