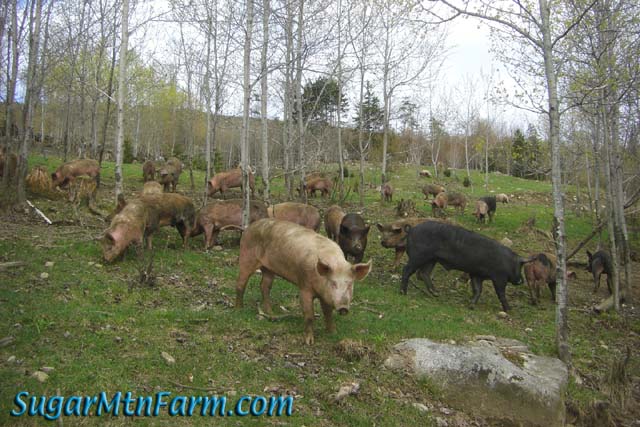 Finishers in South Field
As you can see, we don't ring our pig's noses. Some people insist unringed hogs on pasture are impossible. This picture was taken in the spring showing some of our finisher herd in the south field under the quaking aspen saplings. Below are other typical shots from our pastures. People can, and do, drive by and looking up at the fields and see this on any typical day.
I read about pigs rooting, but see little evidence of it in our fields. They do a little digging but not the cratering I often hear people talk about. So why are our pigs less "rooty" than other people's experience? Based on my observations:

Things that encourage rooting:
Wet or clay soil
Penning
Grubs in the soil – goes away with pasture maturity
Tubers in the soil – goes away with pasture maturity
Lack of grasses for nesting
Overheating – to get in contact with cool soil
Things that encourage grazing:
Well drained soil
Mature pastures with plenty of legumes & other forages
Basically, if there are plenty of grazing forages our pigs tend to graze instead of root on established mature pastures. They tend to root more on newly created pastures because there are interesting tubers and grubs to dig up. Once the pastures are mature the pigs generally graze first, root later, if left on pasture too long. Rotational management thus encourages the grazing by moving them to new pastures before they run out of easy surface foods and begin digging for what is below the top layer.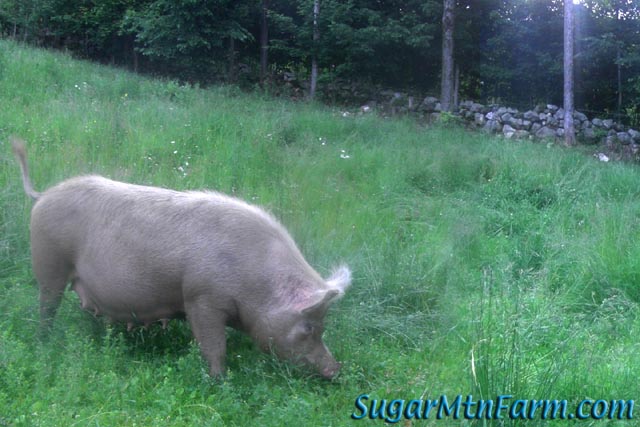 Jolie Grazing in North Home Field
Interestingly I've never seen them dig the deep 1′ to 3′ craters that some people describe. When they do root it is just a couple of inches down. We do have some places with deep soils, down to even five or ten feet of dirt, so it is not simply that our mountain ledge prevents deep digging. Rather I suspect their shallow activity is because our top soil layer is fairly thin. Once they're through that marginal layer they stop because what is lower just isn't interesting. Instead they switch their attention to the leafy forages up on the surface.
Winnie Sow Grazing South Field Paddock Four
If your pigs are rooting 'excessively' the first thing to realize is that they will root some – You're not looking for a lawn, right?!? Next keep in mind that if they're new to a pasture that has not previously been pigged they're going to want to clean out any grubs and tubers below the soil surface so you will likely see more rooting the first time through. After that it becomes a matter of managing the rotational grazing. To do that the pigs do need to learn to graze as is discussed in other articles here. If still you're getting too much rooting it could be too many pigs on an area for too long or perhaps a problem with soil conditions (wet and clay) which may necessitate moving the pigs even faster.
Pigs and Sheep Grazing South Field Paddock Five
Perhaps it also comes down to expectations. I have pastures, not lawns. Some rooting is good for the pasture, good for the soil, good for the grasses and other forages. The chickens follow smoothing down the soil. The rain reduces bumps. Green things grow again. It's all part of the natural cycle. If over a five or ten year period the pigs turn over every bit of top soil on our pastures they will improve the grazing and I'll be pleased. Because they graze, because they can get their food from our land, I don't have to buy commercial hog feed which saves me money and produces a far better quality pork.
This is not to say that there don't exist some pigs out there who will root no matter what, but ours do fine grazing without any need for nose rings.
Lastly, if nothing else works then you may want to consider this post about how Rooting Powder may be used with your pigs.
Outdoors: 68°F/48°F Mostly Cloudy, 1/2″ Rain, Some Sun
Tiny Cottage: 69°F/67°F
Daily Spark: Sign I saw on the web: Is there life after death? To find out, trespass here.