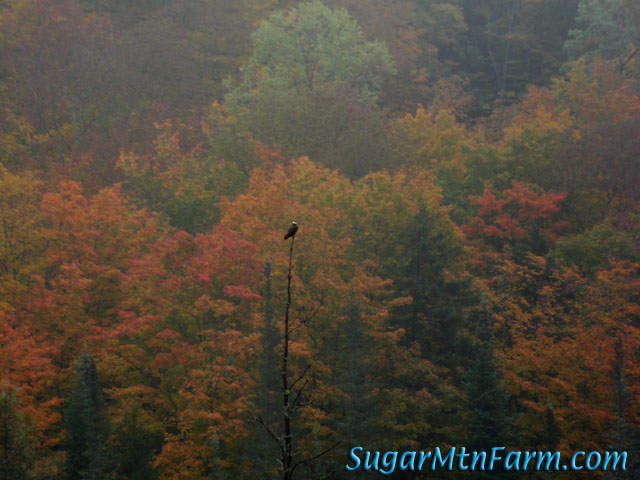 Adult Bald Eagle in Dead Spruce
We see bald eagles occasionally[
1
,
2
]. Will shot the last one. I got this one. His photograph was much better as he was almost under the tree the eagle was in. And no, don't worry, we only shoot them with our cameras!
The eagle above was in our east field, across the road from our butcher shop construction site. Holly and Will spotted it while they were up on the cat walks working on adding ribs to the trusses. As I clicked away, on ultra-long optical telephoto braced against the wood framing, the eagle turned and looked at me. Paparazzi I am.
Unfortunately my little camera wasn't able to get all that great a photo. The issue was the mist. We are up in the clouds. Interestingly, when I looked with my eyes, especially through binoculars, I was able to see the eagle in great detail. I suspect the issue is that the camera sees only an instant when there is diffusing water droplets whereas my eyes combine what I see over time to create a clearer image.
Yesterday Will spotted a moose from up there on the butcher shop scaffolding. Clearing fields has brought in more wildlife. We see a lot of killdeere now – a bird we almost never saw before.
The fall colors are starting to get intense. It is beautiful looking out across the marshes to the mountains beyond.
Outdoors: 76°F/60°F Heavy Mists
Tiny Cottage: 72°F/67°F
Daily Spark: Evil is Live backwards.