Sow Eating Pears
In the north home field just behind our
cottage
is a separate pasture where we had moved some of the mothers to be so they could farrow. The piglets do fine out in the larger fields and brush. The reason for wanting sows to farrow in closer is mostly so that we can interact with them. This gives us a chance to tame the piglets when they're young while most of our 300 or so piglets graze in the other pastures.
The sow above is getting a treat of pears from our nearby trees. I had gathered up a couple of handfuls of drops on my way to the field. We plant pear and apple trees along the fence lines so that in the fall fruit drops into the fields to feed the animals. This saves us from doing most of the pickup of drops and provides additional fall food for the livestock. The fruit trees are protected by the electric fencing which keeps the larger animals off as well as preventing them from compacting the soil around the trees. In repayment, the animals fertilize the soil for the trees.

While our apples, planted at the same time as the pears, have been producing for years, this is the first year we have gotten pears from the trees we planted back in the fall of 2005.
Charley Nursing Piglets
These are not Charley's piglets she is nursing. We had weaned hers last week and moved her to the south field to rebreed. She spent a few days there and then returned up over the mountain to the north fields and from there broke into the north home field. She may well already be bred, I didn't see it but I heard some breeding activity. Pigs are quite loud in, er, bed.
We're starting to see some leaves changing color but it will likely be a month before the real foliage colors set in. It has been wonderfully warm. We're appreciating all this good weather as we work on closing in the building for our on-farm butcher shop. In this month's header photo you can see our meat processing facility under construction behind the sows.
Piglet Faces
These are a few of the piglets up on the top terrace of the north home field. They are standing in a nest. In this weather that is a fairly typical example of what a sow's nest looks like. She plows a little down into the dirt, pushing stones and sticks to the side to make a raised perimeter, gathers grasses and pads the nest. Much like the story of the three little pigs.
Some of those piglets have racing stripes. We call them pajama piglets since the stripes only go from their butt up to their chest – it looks like they have striped pajama bottoms on. The stripes will vanish as the pigs get older. It may just be mixed up color pattern genes. Many baby animals have stripes that vanish like this with age.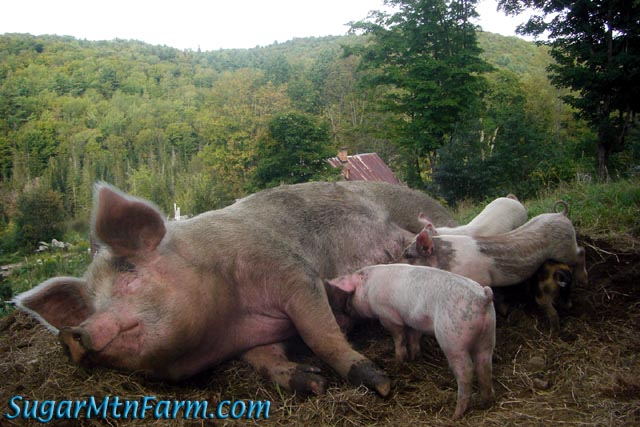 Charley Nursing
The more adventurous piglets stayed to nurse as I came up close. Piglets tend to be a little skitterish until they have gotten to know people. This is why interaction is important. In time all of this litter will be tame and come up to me. Bringing treats for them and the sows helps. When I approach with treats I call out to them "Heeerrreee piiiig, pig, pig!" so they learn my voice and to come when I call. If I fail to announce myself and simply pop up they run but if they see and hear me coming from a distance then they are much calmer.
Piglets born out in the far reaches of the pasture take longer to train as they get less contact. Eventually we want to have it setup so there are more farrowing pastures like we have here in the north home field. Then all the piglets will be able to be born in the closer paddocks. The far fields will be used by bigger pigs who are quite willing to walk the long distance back to the home area to drink the whey and other treats.
My goal is to setup our pastures as a wheel of life with the breeding herds at one end, the pigs rotating up over the mountain as they grow and then down again to the lairage when they are market sized finisher hogs.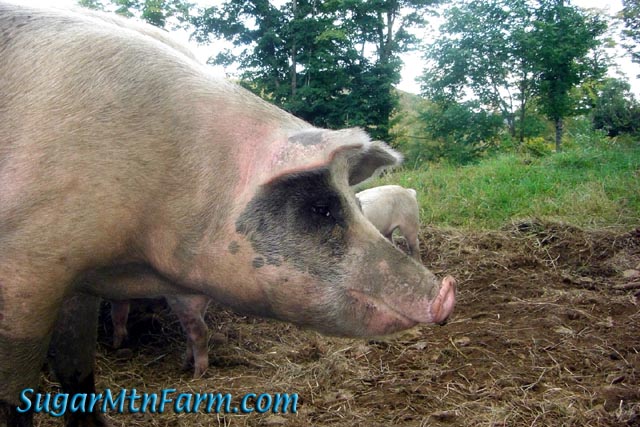 Long Faced Sow
The sow in the photo above is a long faced pig. Contrast her with Charley, who is from a short faced sow, is from a different line in our herds. The facial structure is genetic. In books and articles I've read they talk about domestic pigs having short faces and wild pigs having long faces. That is too much of a simplification. It isn't a wild vs domestic issue. It is a breed characteristic. Yorkshires tend to have short faces. Tamworths have long faces.
Some of the breeds we have mixed into our herds:
Update 2015: Currently we have the Yorkshire, Berkshire, two lines of Large Black and a Tamworth line as well as our cross lines of Mainline, Blackieline and Redline (non-Tamworth). This changes over time. Ultimately my goal is to merge our lines into one master line but that will probably take another decade, possibly longer. Always breed the best of the best and eat the rest.
Why are long faces bred away from in domestic genetics? Probably because the long face is "wasted" bone structure and tissue that could be put into growing meat. I think that some of the really scrunched up faces have gone too far to the short dish side of things. That results in loss of digging ability, loss of sinus, too short a jaw which could cause teeth problems (want to put braces on a pig?!?) and such. The result is I like moderately dish shaped pig faces like Charley above. Right now this is not a high selection criteria in our breeding program so we still end up with some long faces if the sow has lots of other good traits.
Interesting breeds we don't have in our herd but you might heard of:
Kune Kune – Popular for backyard operations due to the smaller adult size, slower growing, short pug faces. See Lucy for a story of a Kune Kune and now has a visitor.
Vietnamese Pot Bellied Pig – Originally it was a pig designed to be small enough to be kept in a court yard in Asia and live off the table scraps of the family. For a while it was a fad pet. Now many people also use it as a small homestead or backyard pig due to the small size. Short pug nosed to an extreme in the ones I've seen.
Mangalitsa – A lard type pig. Short pugged nosed. Short bodied. It goes very easily to too much fat – so diet must be carefully controlled. This is fine if what you're trying to do is produce lard. We don't raise this breed at this time because customers are looking for meat not fat. I would consider it a specialty item. It is also slow growing making it not as good for raising for market.
Red Wattle – Looks much like the Tamworth, from the south seas, longer faced than Yorks, distinctive red wattles dangling on neck, lean.
Mule Foot – Looks a bit like the Large Black but has a hoof deformity called syndactylism that merges the middle two toes.
Check out the Oklahoma State University web site for a lot more interesting information about breeds of animals.
Also see:
Lard vs Bacon Pigs
Pig Page
Four Sows and Pigs
Classic Large White Sow
Outdoors: 67°F/41°F Sunny
Tiny Cottage: 70°F/65°F
Daily Spark: The first step to a solution is to eliminate the irrelevant. -Kirova