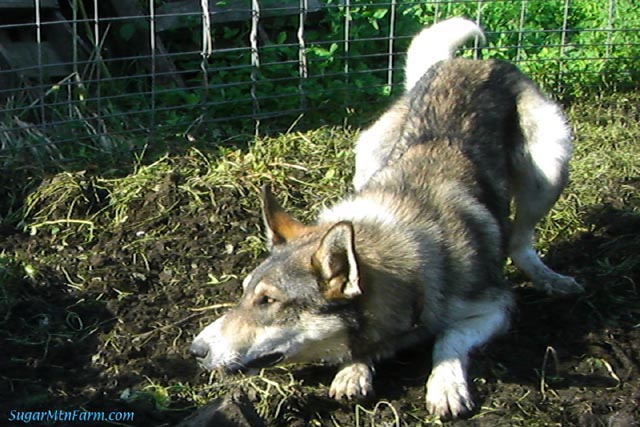 Remus Working at his Other Job
I had mentioned
before
that one of our livestock guardian herding dogs Remus had observed his sister
Katya
doing her chores of cleaning up and he then started doing the same thing around the construction site to get paid for janitorial work. Smart dog.
Later Remus took it to a new level. He had a piece of pink foam insulation which he carefully broke into three pieces with his paw and made a neat pile. He then brought me the pieces one at a time to get three times the reward. He's done that many times since, dividing large items into smaller items to get more reward. He understands economics and how to adjust pricing. Inflation has set in.
More recently he has developed a new strategy. He won't give me the trash he has picked up until I show him the money. If I try to take the trash he moves away and turns his head to say no. He then taps his paw in the meat/treat sign. He wants to be paid first. He doesn't trust me to make good!
I think what happened was that at some point he didn't get a reward for the trash. Maybe I was trying to do scalloping or maybe it was just an accident. That didn't set well with him so he now insists on getting paid on delivery. I'm on COD terms.
Perhaps Mr. Bernanke needs to consult with Remus for some ideas on the economy. They could do lunch on the mountain while he watches over his flocks. Hmm… Friday at two looks good…
Outdoors: 62°F/55°F Rain
Tiny Cottage: 69°F/66°F
Daily Spark: Never strive to be normal.