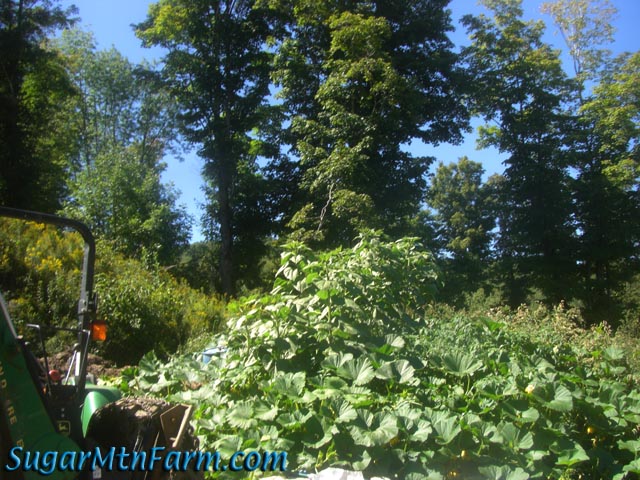 Pumpkins and Sunflowers
These sunflowers and pumpkins are thriving on top of our last year's
compost
pile. They both love the high nutrient levels and moist soil found in the compost piles, old pig wallows and winter paddocks which we use as summer gardens to grow fall food for the animals. There are also volunteer
tomatillo
in among the giant pumpkins. We get a lot of volunteers out in the fields. Seeds the pigs have eaten and then spread around the pastures.
I want to grow a monster pumpkin. There is one very big one in there, a few hundred pounds, but far I do not think I have gotten one. Those are Atlantic Giant seeds. Interestingly, the one we have is already bigger than the one featured on the Wiki page. I would have thought they would show a true monster.
I also planted a Mammouth Russian Sunflowers which was a new variety for us. They are supposed to get up to 14′ but with our double dry spell they only got to about 10′.
I'll keep trying. Next year I'll plant earlier, plant every week and put out soaker hoses earlier. Putting out soaker hoses always makes it rain within a few days. Works like a charm.
Outdoors: 75°F/57°F Mostly Sunny
Tiny Cottage: 70°F/66°F
Daily Spark: Adversity may kill you but it makes the gene pool stronger.