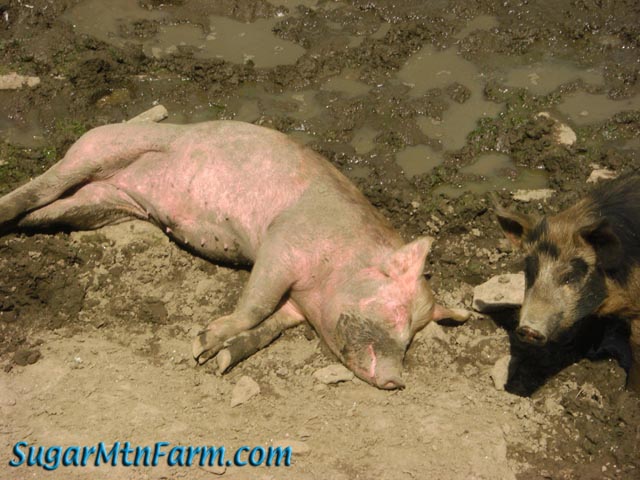 Who's that Dead Pig?
Sometimes you're walking along and you come across a scene like this. Dang. What caused her to die? You start to wonder and go to examine her. Then she twitches her ear and cracks open an eye as if to say, "Hey, you, get out of my sunlight!" Turns out she was just working on her tan. Phew!
This pig is taking a snooze in the mud wallow. Her beauty bath. August, when I took this photo, was pretty dry but still had mud good enough to get a nice coating. Pigs use mud to protect their skin from the sun's ultraviolet, to moisturize their skin, to cool off (they don't have sweat glands) and to protect themselves from insects.
If you're going to raise pigs you're going to discover that they're going to try to make a mud wallow. They will tip over waterer repeatedly to do this. Some people put out a kiddie wading pool for the pigs. Without that the pigs will pack the soil nicely so as to create a dish to hold the water and make a wallow. If there is clay in the soil that will make better mud for packing. If not they'll poop in the spot to improve the fines content so it will pack better. They'll also piss in their pool. They can't read the signs. Besides, urine's pretty sterile. But I'm not going swimming there!
Outdoors: 72°F/51°F Sunny
Tiny Cottage: 70°F/67°F
Daily Spark: The only thing I don't procrastinate is procrastinating. -HB