Kavi and Ben Cutting Christmas Tree
…without me.
James James
Morrison Morrison
Weatherby George Dupree
Took great
Care of his Mother,
Though he was only three.
James James Said to his Mother,
"Mother," he said, said he;
"You must never go down
to the end of the town,
if you don't go down with me."
Opening to the poem Disobedience
by A. A. Milne
in the book When We Were Very Young 1924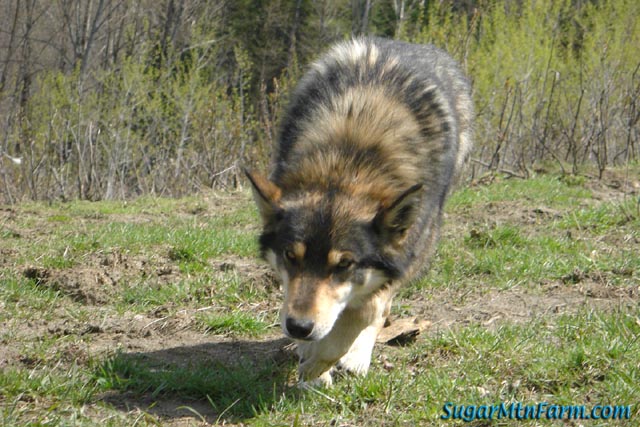 Kavi Giving the Eye
Normally Kavi is a stay at farm guardian.
He protects our flocks and herds from predators.
As a treat Kavi loves to go in the car.
He rides shot gun. As a result,
We have no problem with car-jackers.
Kavi has that stalker look perfected.
He is a master of the Evil Eye.
Nary he needs say a word.
His looks transfix.
Silent but convincing.
It works on animals of all sorts.
Think cross of a between Jack Nickolson and Harrison Ford but with real fangs. He's a handsome boy.
This is in contrast with Romula.
She is the smallest of our dogs.
And quite cute, so everyone says.
She runs around her charges at high speed.
She is loud. Very, very, very loud.
She projects her power through her voice.
She makes it clear not to mess with her pigs.
She makes it clear to the pigs to move.
Everyone has their style.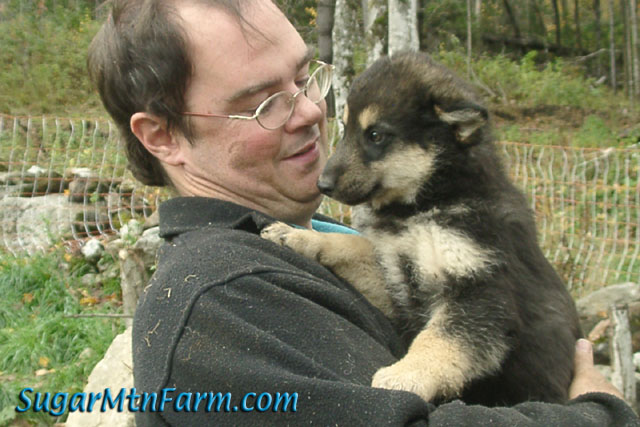 Kavi as a Wee Pup
But back to the poem. When I was a wee lad and only about knee high my mother would tell me that story. I thought she had made it up and was talking about me. You see some of our family names are in the story. It's a reasonable mistake for a little guy to make.
Kavi on Guard
So why would that poem remind me of Kavi? Well, he is extremely obedient, highly trained and intelligent. And he absolutely loves to go in the car on trips which makes him a good anti-carjacking dog. For him its a treat he gets for all his hard work. He sings a song like that poem, he never wants us to go down to the end of the town without him.
But he does have one bad habit. Our entire valley used to have a town in it. Kavi occasionally likes to go on walk-about time-to-time and hunt porcupines. Based on following his tracks he heads up to hunt along the flank of Sugar Mountain and into the upper valley where there are groves of porcupine food at the far side of town. I just wish he would take me with him. I have thumbs and can wield sharp pointy sticks. It is better than bringing the quills back in your face.
Kavi Being Mob Greeted by Some of His Offspring
It's good to be loved – sort of
Roaming is a classic characteristic of guardian dogs – they're marking and patrolling their territory. I just wish he would not go down to the end of the town without me.
Outdoors: 78°F/55F Partially Sunny
Tiny Cottage: 70°F/67°F
Daily Spark: Don't talk unless you improve the silence. -VT Proverb in Echos in the Mountains