LX400 Label Printer
I've mentioned before that we use a
Primera LX400
to print the labels for our products. It's a great little printer, and no, unfortunately they aren't paying me to say that. Still, it is a great little printer. Ours has printed tens of thousands of labels. The cost is lower than getting the labels made at a commercial printing company and the quality is higher. It also gives us more control so we can do nano-scopically short runs, printing labels on-demand as we need them each week. That saves additional money by not having inventory.
There is a catch: the printer tells you when it runs out of ink. Unfortunately, it lies. I find that there is still about 40% more ink in the cartridge at the point it starts complaining. Push it. Don't switch cartridges just because the machine tells you to switch cartridges.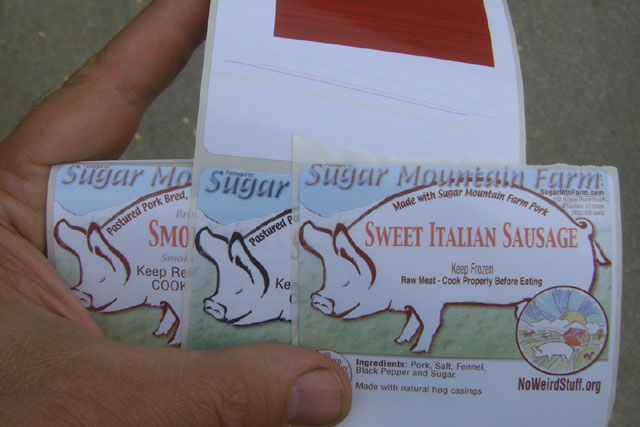 Before, Cleaning Cycle, After, Much Later…
Even when the ink starts to look washed out there is another trick – print a cleaning cycle. I get hundreds more labels by doing that. During this last bit I do have to babysit the printer, sticking around to check it every half hour or so for when it really does run out – not a big deal if I have something else to do nearby. Once it really runs out the change in color becomes very dramatic. Then change the cartridge.
Doing this I am getting an average of 1,724 labels per cartridge over the last 8 cartridges. That comes out to be 2¢ per label for the cost of the ink. The label stock itself costs me another 2.5¢ on average depending on what vendor I get it from and if it is perfed or not (1.75¢ to 3.5¢ range). This puts my cost per label at about 4.5¢ which is excellent.
Because the cost is so low I haven't tried the refills, yet. I would be interested in hearing from anyone with this printer or the LX800 who has used third party refills on it.
Outdoors: 78°F/58°F Sunny
Tiny Cottage: 71°F/66°F
Daily Spark: KISS and KILL: Keep It Simple – Keep it Local