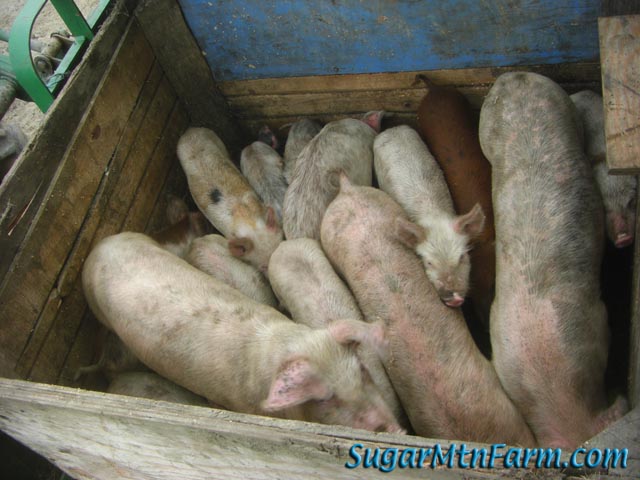 Pigs in a Poke
We had a group of weaners in the north field that were ready to join the rest of the herd in the south. They had been using our sorting pen as their sleeping spot which meant they were right off of the loading ramp. Typically we'll herd them from one area to another but this time we simply placed a wooden crate at the end of the loading ramp and the weaners, now growers, all walked into the box for their trip down the road to the south field. Easy-peasy as pie.
We had to come back for more as they didn't all fit in the first trip. You'll notice that a few are quite a bit larger. They're growers from a previous round who've been showing the new weaners the ropes of how to be pastured pigs. How to graze and what to eat. New piglets learn from older pigs what is good. They're hesitant to try new things. Our first pigs learned from our sheep.
So what is a weaner, a grower, a piglet? Check out the FAQ.
Outdoors: 70°F/54°F Partially Sunny
Tiny Cottage: 69°F/65°F
Daily Spark: If you're going to be using power saws it's a good idea to have someone around to hold your hand.