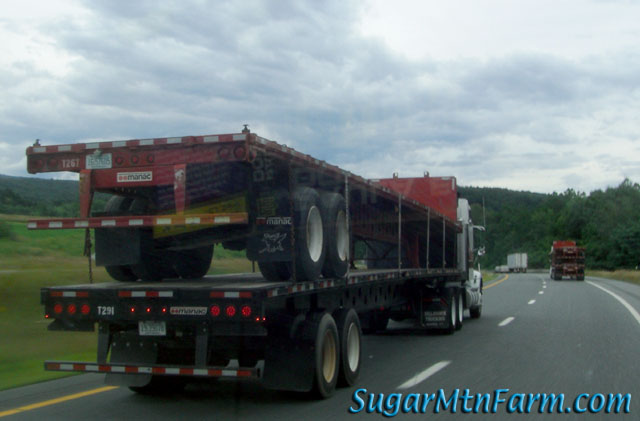 Double Double Decker Tractor Trailer Trucks
On Wednesday afternoon while Holly and I were driving back from
Adams Farm
after picking up meat and hot dogs we were passed by two double decker tractor trailer trucks. It was quite the sight. Double take, and do it again.
Note that this was our last delivery for one to two months as we are in high gear on construction of our own on-farm USDA/State inspected slaughterhouse and butcher shop. Normally we deliver weekly to stores, restaurants and individuals year round but in order to make a big push on building while the weather is good we will be taking the next month or two off from deliveries. There are two roaster pigs and a suckling that I have sequestered away in the freezer for any last minute orders – let me know if you need one as they will sell out quickly. See the roaster page for details.
In early October we'll take more pigs to butcher. If you would like a whole or half pig in the fall now is the time to send in deposits.
A very limited number of CSA Pre-Buys are also still available. Those would be delivered next spring.
Outdoors: 79°F/60°F Sunny
Tiny Cottage: 74°F/65°F
Daily Spark: I like to put off procrastinating until the last moment.
PS. Bonus points to anyone who can figure out what book I was reading. The hint is there for all to see.