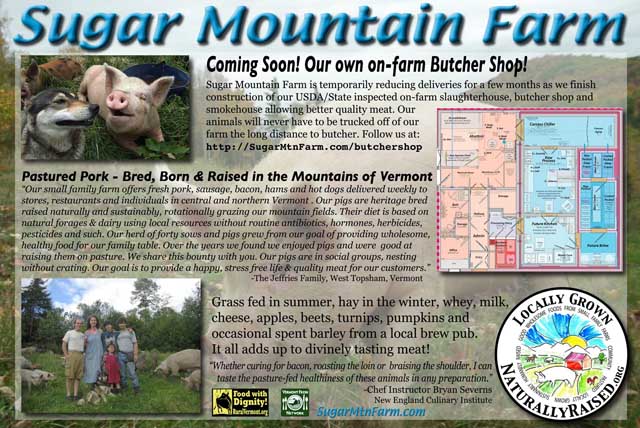 Store Poster Announcing Butcher Shop Construction
This week we are making our final delivery of our pastured pork to stores and restaurants for a while. After years of weekly year round deliveries we are going to take a break from deliveries to focus on construction of our butcher shop. Along with hot dogs, bacon and fresh pork We also delivered the poster shown above which says in part:
Coming Soon!
Our own on-farm Butcher Shop!


Sugar Mountain Farm is temporarily reducing deliveries for a few months as we finish construction of our USDA/State inspected on-farm slaughterhouse, butcher shop and smokehouse allowing better quality meat. Our animals will never have to be trucked off of our farm the long distance to butcher.

Our store and restaurant customers know about, and regretfully but strongly support, our break in deliveries because they're looking forward to when we get our butcher shop running. They asked for some sort of poster to let their customers know that we'll be back and we'll soon have on-farm slaughter.
By bringing the processing under our own control here on the farm we will save a day of driving each week and make it so our livestock don't have to undergo the long trip to the butcher house. In the future our animals will be able to make their full life cycle here on Sugar Mountain, never leaving our farm.
In addition to improving quality of life for the animals and saving us time and money it will also improve the quality of the meat for customers by eliminating the stress of travel for the animals. Many scientific studies have shown that stress reduces meat quality and reducing stress improves meat quality.[1]
By not making the long drive each week we will be saving almost 1,600 gallons of gasoline per year. That comes to 14.2 metric tons of CO2.[2]. This is on top of the fact that our farm already sequesters up over 1400 tons of carbon a year with our forests and fields and we don't feed commercial hog feeds avoiding one more high carbon footprint input. You might say we're making green ham. Just add eggs and Seusse.[3]
We now have the funding for construction so we can move ahead at full speed. Think good weather thoughts as we race winter to close in and outfit our on-farm USDA/State inspected slaughterhouse and butcher shop over these next few months!
The next batch of bacon and hot dogs are in. Starting tomorrow, Friday August 4th, look for our delicious hot dogs, bacon and pastured pork under the Sugar Mountain Label label in your local stores including:
In other news, piglets are popping out all over the place. Now are the easy months for farrowing and the sows seem to have clustered, taking advantage of the good weather. This means we'll have lots of pigs available in 2012 as these cohorts mature, growing up in the best seasons of the year. Life is good on Sugar Mountain.
Outdoors: 76°F/54°F Sunny
Tiny Cottage: 70°F/67°F
Daily Spark: "We hauled the hay that fed the cows that fertilized the fields that grew the grain that thickened the milk that fattened the pigs that supplied the bacon that fed the family that hauled the hay." -Ronald Jager in the book Eighty Acres: Elegy for a Family Farm