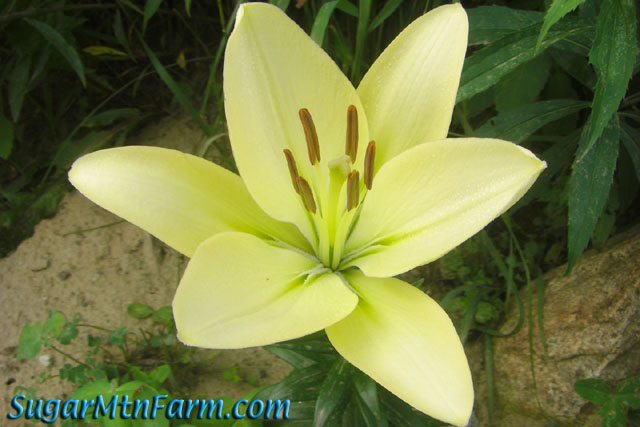 Lili – Not a Dog
This spring Hope and I planted Lilies out by our
new mailbox
. I had dropped a 800 lb round bail on the old mail box during the winter. Oops. That did decidedly not nice things to the box. Destruction of government property?
Well, it was an excuse to replace it. Or maybe an obligation. I had been repairing the old one for years and it was continuing to fall apart. The door hinges were long gone, repeatedly replaced and for a while there was no door. After it was crushed beneath the bale we let the mailman and mailwoman (hmm… gender redundancy) know that they didn't need to drive the one mile up the mountain to us for a while. The ground was frozen hard and even the tractor wasn't able to make a dent for a new post by the road where it had been kept plowed. The irony is that out in the fields under round bales and snow pack there is no depth of frost and the soil is quite digable all through the winter.
Once the ground thawed I dug a new hole and put in a new regulation height post topped by a mailbox. Inside the back of the mailbox I painted a pig peeking out at the postal delivery people. They saw it.
Outdoors: 81°F/46°F Sunny
Tiny Cottage: 75°F/64°F
Daily Spark: Overkill is mashing potatoes with a tractor. Yet, it works.