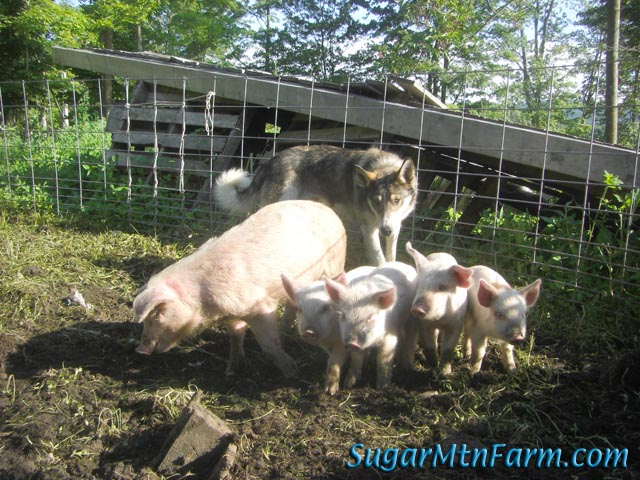 Remus Working
It is good when your work is your play. Remus, son of
Lili
, loves working with the piglets. Here he has carefully and gently grouped them all together. This is a natural behavior both for the pigs (herd / prey) and the working dog (predator hunting / guarding / herding). The dog's guarding and herding instincts relate back to hunting. Think of them as the original ranchers.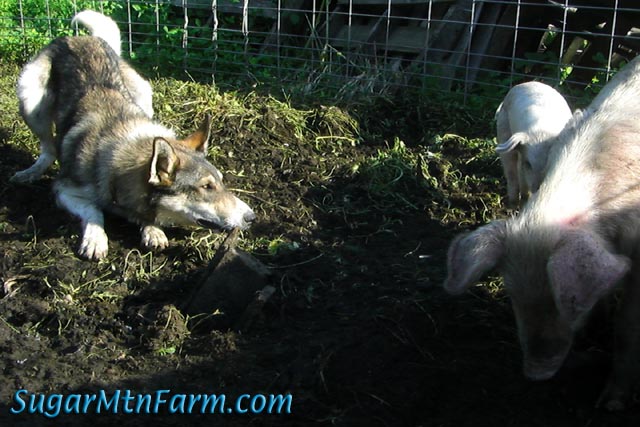 Remus Eyeing Low
The pigs learn to pay attention to the dogs from their early interactions. The dogs teach the livestock to move, reinforce the grouping up behavior and mutually they learn how to work. The dogs give the alert when something is wrong. The geese also serve this function. In fact the geese will call the dogs in to deal with predators they can't handle. Is this on purpose or are the geese simply raising a ruckus and the dogs going into territorial defense mode? Either way the coyote gets eaten. Change of venue, change of menu dear wild cousin.
Remus is barely eight months old and still a puppy but he is now taller than all of the other dogs in our pack. He's going to be a big boy. That fence behind him is 43″, I'm above him a little which makes him look smaller in the top photo and he's lowering himself a little so as not to overly intimidate the piglets. In the second photo he's doing that even more – a technique the dogs use to prevent livestock from scattering. You may be able to see how that would relate back to hunting.
Remus is long and lanky. In about two year's he'll be fully muscled. It will be very interesting to see how he turns out. Remus reminds me of a cross between his great uncle Hagrid and his uncle Baloo. Hagrid, the half giant, measured seven feet from the tip of his nose to the tip of his tail. Baloo was big too but not that huge. Baloo has the same goof ball grin that I often catch Remus sporting. I suspect that Remus thinks the world is quite amusing.
Hagrid's sister Kia could literally walk under his belly and likewise Remus has a sister Romula who can easily walk under him. She's only 30 lbs or so, just a handful that I can easily scoop up. But don't let her size fool you, she's a master at moving the big pigs. In fact, she took to the job earlier than Remus.
Romula and Remus were named for famous twins who were suckle by a she-wolf and went on to do various interesting things. Hopefully she won't kill her brother.
Outdoors: 80°F/66°F Sunny
Tiny Cottage: 73°F/67°F
Daily Spark: Sacred Cow: Moo doo Voo Doo.