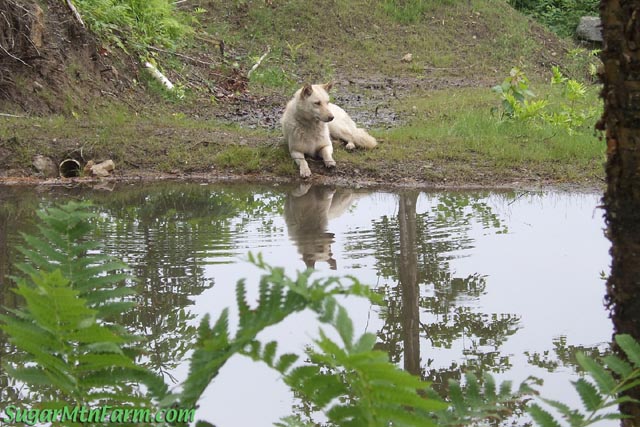 Lady Lili Relaxing
Just a pretty picture of my lady Lili relaxing up in the shade on the dam of
Mystery Pond
. Last year we
lengthened
Mystery Pond, moving the dam about eight feet north so it would catch more of the spring water that comes down the mountain. It's still resealing from the change but the frogs don't seem to mind. There is a thriving population of peepers there who serenade us in the evening.
Mystery Pond, in addition to being a pleasant spot, is water storage for the gardens and livestock in the north home field. Rather than having one huge pond we have many small ones which are interlinked, spilling over from one to the next in many cases. In the flush of spring and fall rains as well as the winter snow's melting the ponds fill up to over flowing several times a year. Then during the dry times of late July and August they gradually lower. We are fortunate to have many springs. They don't produce huge amounts of water but with judicious storage in ponds we get by through the dry times.
Meanwhile, down in the central valley of our land there is a tremendous flow of water through the stream that fills the beaver ponds in the marshes. Like us, the beavers have built many ponds to manage their resources. This annoys the power company to some degree. So far the beavers haven't chopped down any of the high tension power poles. I doubt the huge wooden poles taste very good.
Outdoors: 80°F/60°F Sunny
Tiny Cottage: 75°F/67°F
Daily Spark: He who rocks the boat, stones the ship.