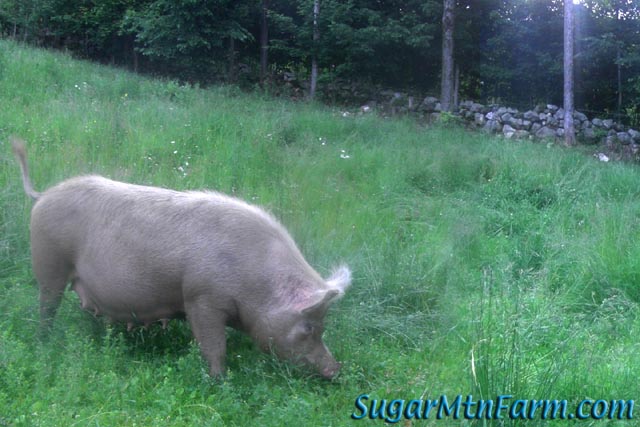 Jolie Grazing in North Home Field
Jolie is modeling the latest in maternity wear just like her sister
Angela
did recently. You can see that Jolie's back is starting to sway down a little as her belly becomes heavy with the fetuses. Her breasts have enlarged and become clearly defined. In a week she'll look positively cow like down there. Soon she'll build a nest, perhaps in one of the huts or in the brush. Typically just before giving birth she may drip milk and lose interest in food, all her attention being focussed on nesting in preparation for farrowing her next litter of piglets.
Winnie and Oreo recently farrowed their litters of piglets in the north home field. Jolie is getting close so we moved her over there this past week. The north home field is right behind our cottage and easily visible from where we're working on the butcher shop so it lets us and the dogs keep an eye on things. The sows are enjoying the lush grasses and clovers.
Let to their own devices in a natural mixed herd situation where the boars are available the sows typically have about two to three litters a year. The weather has been ideal for popping out piglets. Now are the easy months. Some people mistakenly think that the farmer forces this rate of breeding but the reality is the sows are eager to rebreed and the boars are more than happy to oblige. No participation is necessary from the farmer in any way. All we do is note it on the calendar.
Outdoors: 72°F/57°F Partially Sunny, Light Rain
Tiny Cottage: 70°F/67°F
Daily Spark: Be an activist by living your ideals.