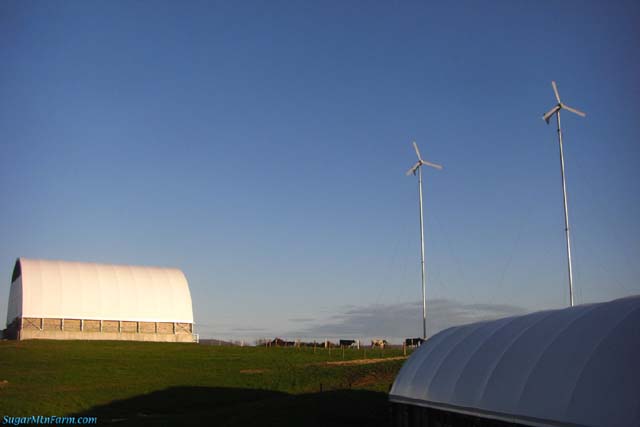 Windmills at R & A's Farm
As I was headed home I heard the sound of a siren. Flashing blues in my rear view mirror. What?!? I wasn't speeding. Not this time. I pull over and the officer parked his car behind me.
After taking his time to check me out he came forward with his hand on his belt. "Do you know why I stopped you, sir?" he asked me.
"Uh, no, Officer." I replied, "I don't think I was speeding."
"No, sir, you weren't speeding. But there is fluid coming out of the back of your car."
"Oh, ah, can I get out and take a look?" I asked.
"Please do. Keep your hands in sight at all times."
I got out of the car and walked back. Yes indeed, there was something coming out of the trunk. "I guess the ice has melted." I said.
"The ice?" he prodded.
"Yes, the ice I was using to keep him cold with."
"Him?" he asked rather pointed?
"Uh, yes, I mean the body." I stumbled.
"You have a dead body in there?" the officer demanded.
"Yes, and I think the ice must be melting." I said absently "That's probably what caused the fluid trailing on the road out of the trunk."
"You mean to tell me you admit you froze the body?" he asked incredulously.
"Well, uhm, yes, but it's not like it sounds." I answered realizing this wasn't sounding very good.
"And what are you going to do with him?"
"Eat him, of course."
"You were going to eat him!?!"
"Well, yes, we were going to have a pig roast."
The police officer roughly pushed me up against the car and cuffed me. I tried to get him to open the trunk to see it really was just a pig, you know, sus scrufa, but he said we had to wait for the detectives. Meanwhile he took me down to the station, booked me and gave me my one phone call.
And that, Honey, is why I can't make it home tonight, the eve of our anniversary. Honest, I tried to get the roaster back in time but pig is still sitting in a space blanket packed on ice in the trunk. Could you please go pick it up on I-91 south just before Exit-7 and then come post bail for me?
Outdoors: 73°F/60°F Sunny
Tiny Cottage: 70°F/63°F
Daily Spark: There is no admissible relationship between fiction and reality.