Cherry on Blue (Likely Prunus avium or such)
Cherry tree bark and leaves are reputed killers of livestock. Fortunately they are very bitter and the animals normally avoid them. According to a vet I spoke with it takes a lot to kill a sheep, the animal we had under discussion. If the livestock have other foods they tend to eat those instead, ignoring the toxics.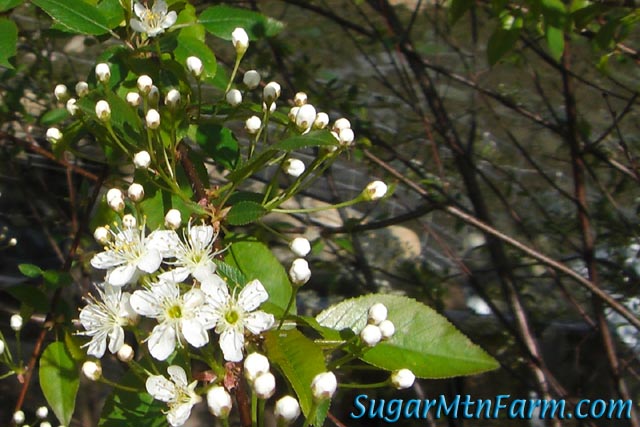 He also mentioned that the plant's leaves are not always toxic. This is similar to maple where it is toxic when wilted but not an issue normally. Good thing as our sheep and pigs have pretty much cleared out the maple and cherry. I had thought I was going to have to cut the ones in the fields but when the plants are tender in the spring the animals graze them to some degree in addition to their trampling effect.
On the other hand, large cherry trees get ignored by the pigs and sheep so those continue to grow larger. This particular one is just outside the fence line by the lower whey tanks. It is putting on its annual flower show. The pears started in the last couple of days and the apple trees are just behind them.
Outdoors: 76°F/50°F Sunny
Tiny Cottage: 70°F/64°F
Daily Spark:
Farmer Daffynitions:
1. A handy man with a sense of humus,
2. The only man who can lose money every year, live well, educate his children and die rich,
3. A man who is outstanding in his field.
-Anon