Sow Steak
That is a steak from our biggest sow to date, Anna. The ruler gives you a sense of size, her boneless pork chop was 7″ x 11″ and weighted over four pounds. This cut was taken at the top of the loin below the Boston Butt shoulder.
Anna went to butcher because she was getting ornery. She head butted Ben once from behind for no reason and several times had charged me. She was snappish and biting. This is not acceptable behavior. Safety first – I eat meant people.† I can't keep animals on the farm who might hurt us, visitors, the working dogs or other animals for that matter. If an animal loses its sweet disposition then there is someone else ready and willing to take their place – the mean one goes to the butcher.
I say sweet disposition because we breed for temperament among other characteristics. Niceness is not just environmental, it's also highly genetic. Nice mothers tend to have nice piglets. Even if you do adoptions the niceness factor follows. This may be horribly unpolitical correct to say, but it is true. Fortunately, on the farm, with the livestock in particular, there is a very easy solution that ends up on my plate.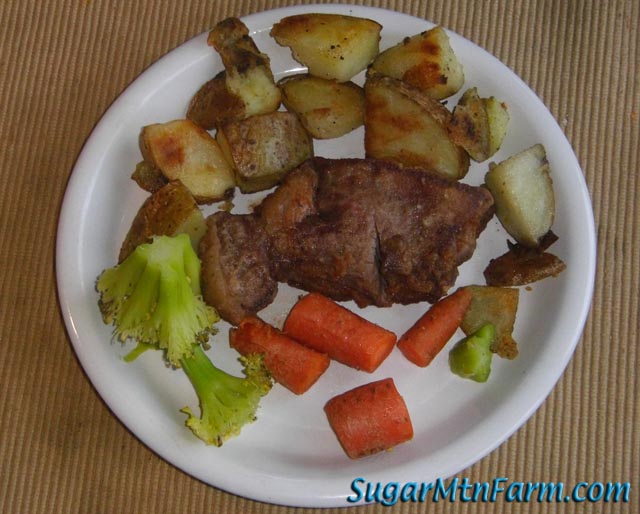 Crispy Pan Fried Sow Steak
I've been asked by several people over the years if one can eat an older sow, if they're tough (the sow, not the person asking the question) and if they're more flavorful. The answer is…
Older sows raised on a corn diet in confinement tend to be very fatty – this is according to our butcher. We raise ours on pasture so we don't see this at all. The butcher says our sows have fantastic meat with just the right amount of marbling* and back fat. I bow to her expertise.
The older sows defintely have more marbling than finisher pigs of the same genetics on the same diet. Those finishers in turn have more marbling than a roaster or grower pig. Suckling pigs have the least fat of all. Pigs tend to put on muscle up to about 250 lbs live weight and then they start putting on more fat, although they'll still put on muscle as obviously demonstrated by Anna's enormous "pork chop" above.
Personally, I love fat. Anna's fat was absolutely delicious with a sweet almost nutty flavor. This is produced from her pasture and dairy diet. What an animal eats has a strong effect on their flavor. Most of the flavor is in the fat and most of that flavor is laid down in the last month before slaughter.
So does an old sow taste better than a young finisher hog pig? Well, yes – not disparage the young but it is true. Yet you won't be able to get many old sows. It took over half a decade to grow Anna whereas a finisher is ready for market in about six months or so. To raise big sows on a production basis would mean tripling the price of pastured pork. Anna's tenderloins were the size of a steer's and went to a high end market. We have customers who specifically order the big sows, paying extra when they can get the meat so they can make prosciutto and other fancy dishes.
Anna was not tough at all. The meat hung for five days, something I would do with beef too for aging. Will cooked it to perfection using my favorite recipe which he's been perfecting since last year. The meat was tender, juicy and delicious. This is not to say that all old sows are as tender. Last fall we had one that was tougher which brings us to…
The one drawback of a large sow is that she will have more gristle in some cuts. After all, she has stronger connective tissue for those enormous muscles and massive bones. A 700 or 800 lb animal has to move more mass than a little 250 pounder. This is easily solved, just cut the meat and remove the gristle during preparation before cooking. To this end Will sliced that huge steak into one inch wide sections. He then felt the sections with his finger tips and cut out the little bit of gristle from them before battering and cooking the meat.
The final word? Anna was delectable! I wish I had twenty steaks from her in my freezer. As it was, we only had the single one for 'scientific testing' which we had to all share. Hmm… There's one last piece on the serving platter… Flip you for it!
Outdoors: 52°F/44°F Overcast, Slight Rain
Tiny Cottage: 64°F/61°F
†Daily Spark: "I have a firm rule – I eat mean people." -WJ quoted on FacelessBureaucrat of the USDA 20090325
*Marbling is the fat within the cut of the muscle which makes the meat juicier as opposed to the back fat or other surface fat on the outside of the cut.