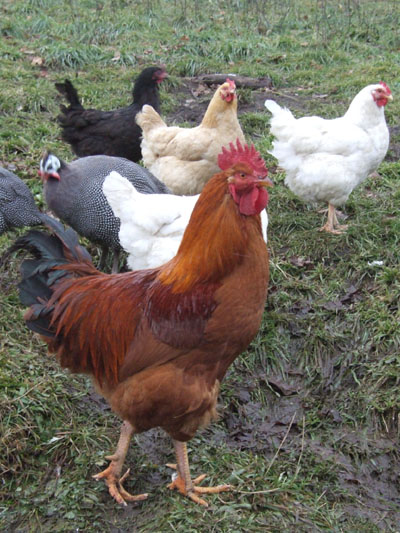 Black Australorp hen,
Buff Orpington hen,
Guinea hen,
White Orpington hens and
NH Red rooster.
Automatic,
All Natural,
Organic and
Pest Control
The chickens also break apart manure patties and smooth the soil which saves machine work.
Free eggs to boot and chicken soup in the fall!
The poultry naturally follow the larger livestock so we don't have to fence them in. We do have to fence them out of gardens with plants that are sensitive to the chickens. This depends a bit on the season and plant type – e.g., chickens are hard on seedling corn but fine with maturer corn. Likewise with potatoes.
Outdoors: 51°F/31°F Misty
Tiny Cottage: 65°F/63°F
Daily Spark: Perhaps Pollack was a sauce chef before he was a painter.