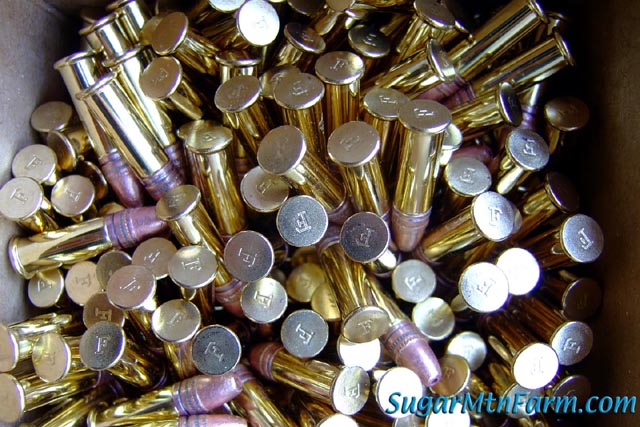 Still Life Portrait*
This is a rather interesting composition. It is a box of brass. I've heard many opinions on what people like best for
slaughter
. I have been using copper jacketed hollow point .22LR for years. The bullet always penetrates the skull and the kill only takes one shot. I've done this on small pigs, market size pigs and very large pigs. We're talking 800 lb sows with hard heads to match. The penetration is very clear because I clean the skulls and examine them. The hole going through the front of the skull is nice and clean. I've recovered the bullet fragment – it is always deformed and inside the brain case. Every kill was a single shot.
A larger caliber bullet risks penetrating the back of the skull and sending bone, brains and bullet fragments into the shoulder meat or deeper into the animal. This is not good as it wastes meat and can actually result in more suffering. The lower caliber bullet does a better job of stunning by bouncing around inside the brain case. Stunning the brain leaves the heart beating which makes for a better bleed-out.
I read articles in the newspaper where they make excited statements about "Joe Blo had three guns and over 1,000 rounds of ammunition in his home!" Well, let's take a deep breath, step back and realize that bullets come in small boxes of 550 rounds. A round is a bullet. If you buy a couple of boxes then you'll freak out those who don't hunt, slaughter their own livestock or otherwise deal with firearms.
Did you hear the one about the farmer who turned in to a gun shop…?

The man behind the counter approached and asked, "How can I help you, sir?"

"I wanted to buy a gun," the farmer said.

The dealer smiled and inquired as to what he would like to do with it.

"I want to shoot a pig," the farmer said.

The dealer quickly stepped back with an alarmed look on his face.

Realizing the miss-understanding, the farmer press his finger to his nose and said, "You know, the kind that goes 'Oink!'"

The dealer chuckled with nervous relief and approached me again. We talked guns.
Vermont is a reasonable state. There is no permit necessary to carry a concealed weapon. Our murder rate is lower both absolutely and per capita than New York, California, Massachusetts and other places where they have harsh gun laws. Vermont where people pack has fewer homicides than even Australia and Britain where draconian laws essentially ban guns. Oddly gun related crimes increased in those countries after they implemented the restrictive laws. Funny how that works. No clear conclusions.
This is not a gun debate. I'm not a gun nut – what ever those are. I'm not even in the NRA – not that they're nuts. A gun is simply a tool. Guns are not bad in and of themselves. It is how people use them that is the issue. If you take away our guns we'll have to go back to using knives, machetes, pikes, hammers and pitch forks. That makes both slaughter and revolutions messier. Just ask the French peasants versus American's Founders. History lessons are about not repeating.
Also see:
The Kindest Killing Blow
Of Pig Brains and Tea Cups
*For a desktop background of that photo, click it to get the large image. Then save it to your hard drive and use it as a screensaver or wallpaper.
Outdoors: 48°F/31°F Partially Sunny
Tiny Cottage: 65°F/62°F
Daily Spark: History is useless unless it can withstand the test of time.