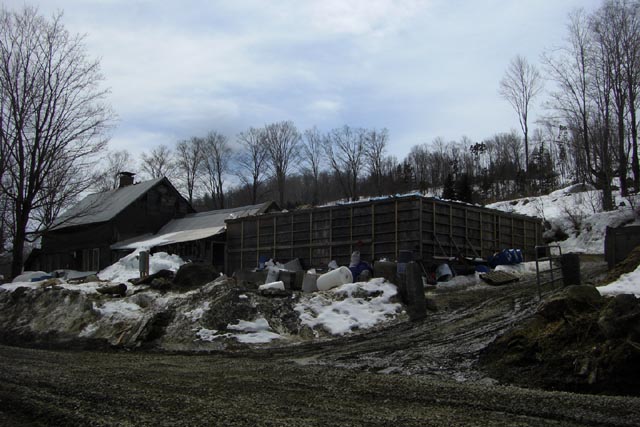 Formwork Waiting
The forms for our
butcher shop
construction project have emerged from the snow. Will spread a very fine layer of
ash
the other day inside the facility and around the outside to melt the snow banks faster. There's just a foot or so of snow pack inside the rooms. Our super insulated slab has made the snow last longer in there than it is out on the ground – this is a very good sign.
On Sunday the 17th, well ahead of schedule, we start pulling walers on the inside of the reefer and administration so we can set them up in their next configuration to do the first concrete pour of the year. Progress.
Mud season is here. The town has spread gravel on the road – a big improvement over last week. What remains of the snow is not so pretty. The rain of these last couple of days is helping to melt the snow. Much appreciated in that regard. I have reports that down the mountain the snows are gone.
Today's weather was, shall we say, interesting. It alternated between sunny and blizzard white out conditions with a spat of hail thrown in for good measure. We got two inches of snow in the morning – for a while it was snowing so hard you couldn't see 100′ or maybe even less. Then the sun came out and melted most of that. Then the snows came back like our snow globe had been shaken up once again. Weather around the edges of the seasons is certainly fun.
Outdoors: 41°F/30°F Sunny, 2″ Snow, Sunny, 1″ Snow, Sunny, Hail, Sunny…
Tiny Cottage: 64°F/62°F
Daily Spark: Nobody ever evolved because things were too easy.