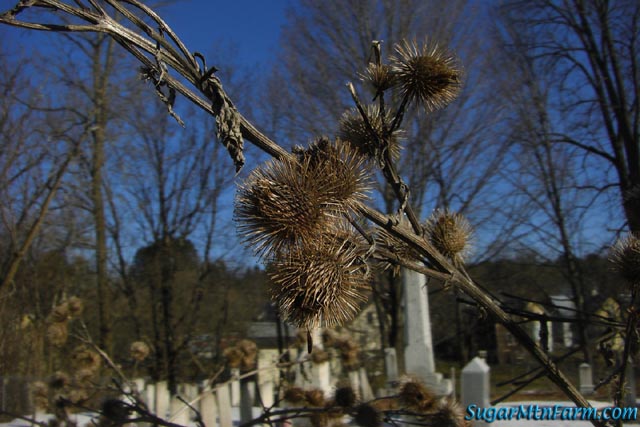 Burdock Balls at the Graveyard
Burdock loves sheep. Pigs love burdocks. Problem solved.
Burdock are fun to play with, tossing them at each other – just so long as you don't have sheep. If you have sheep then burdock are the plant from hell. Our sheep once got into a burdock patch and had hundreds, maybe thousands, of dry, brittle burdock balls all over their wool. It was a disaster. The wool was a complete loss.
When we had arrived here over 20 years ago there was no burdock but then in the mid-1990's it invaded from the north, creeping slowly along the road each year towards our farm. For years we hacked and poked to kill off the burdock. It was a never ending battle.
Enter the pigs. Pigs love, adore, will do almost anything for burdock. Roots. Stems. Leaves. Balls. Burdock is a delicacy to pigs. Pretty soon there was no more burdock wherever the pigs could get to. The little that is along the road we still control by hand but now it is much more manageable. I would love to herd the pigs up the road. We only get about a car an hour. In a few years of doing that they would clear the road as well. Someday.
Interestingly, pigs also love to eat thistles. Ouch. Different, er, strokes for different folks.
Outdoors: 63°F/13°F Sunny, 1/2″ Snow, Rain
Tiny Cottage: 71°F/67°F
Daily Spark: Imaginary numbers are proof that you don't have to be real to make a difference. -Ben Jeffries