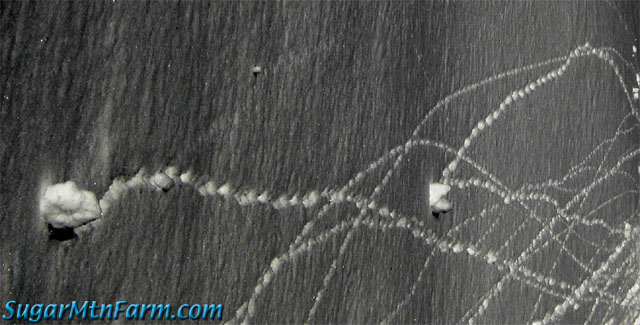 Mysterious Black and White
What in the world is that?!? Make a guess in comments. Then click on the image to see what it reveals. Don't worry about the mirror.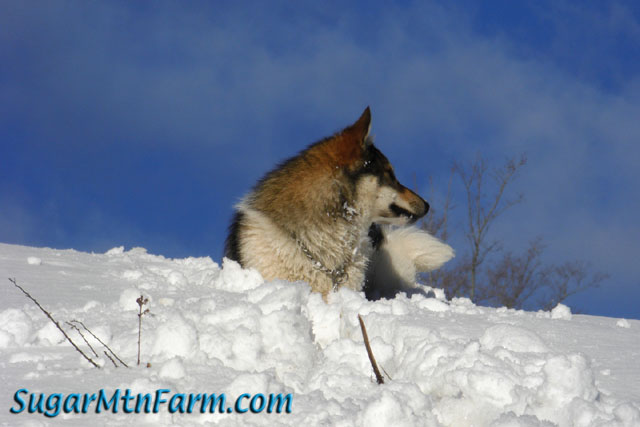 Romula Sitting Pretty
Yes, we really do have this much snow, it is this white and the sky is that blue. No Photoshop required. Romula hasn't been retouched either, she's my pretty girl. A pretty girl who likes to round up the pigs. She is just a new puppy and weighs maybe thirty pounds. The pigs she rounds up weigh up to 1,000 lbs. Yet they obey her. Working dogs are amazing.
Romula is named from the Roman mythology and yes, she does have a twin brother Remus. And yes, they are often at each other's throats although he is nearly twice her size. Fortunately it is all in good fun. Right twins?!
She is wearing an elegant stainless steel necklace. They are all the rage with the dogkin. I suspect that collars are viewed as a status symbol. When the puppies were little they didn't have collars but the big dogs did. Having a collar may be seen as a rank issue. I say this because Sirus, a dog from an older litter, was very insistent that he get his collar back on when I had taken it off him at one point. When I got done fixing it I held it out and he slipped his head right in. Interesting…
Outdoors: 45°F/29°F Sunny
Tiny Cottage: 68°F/65°F
Daily Spark: I believe in planned destiny and serendipity.