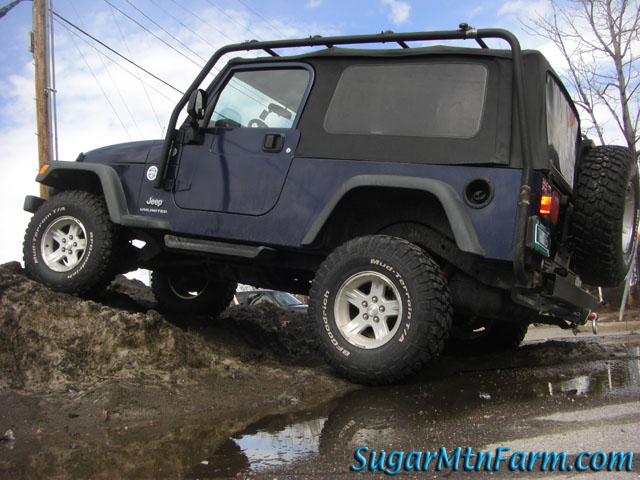 Interesting Parking
I see these time to time. People who have all the grip they can get and no excuse to use it. They park up on snow banks in the most delicious ways. Great fun. I suspect they are frustrated at the lack of appropriate terrain for their monster trucks, jeeps and such and just can't resist that snowbank in the parking lot.
One of the things about the north country is there is a lot of snow. In the urban areas (population over 1,079 humans, 5,000 dogs or 10,000 sheep) they have a bit of an issue with where to put all that snow when clearing the streets and parking lots. If it snows 12″ and they have to clear 100 acres of streets and parking, such as a typical city of Barre, VT, even with compaction it comes to about forty thousand cubic yards of snow. That is a cube of snow about 100′ on a side or, should you want to build such a massive snow sculpture, that is 147′ tall pyramid of snow for sledding down. I think that may be taller than any building in the local city of Barre, Vermont. That is a heck of a big snow bank!
Much of the snow gets trucked out of town. Some towns dump it in the river where it causes the water to backup and flood the town (this has actually been done). Much of the parking areas at stores get devoted to snow piles in the winter. Fun for little kids. Fun for bigger kids with rigs.
From the looks of it this rig, named Tardis, it has never been off the city streets. I found it up in Burlington. I'm amazed they can keep it so clean because our van looks like… well… let's just be polite and say our van is covered in mud – we're not even trying. Good thing our van is naturally brown. Back roads in mud season create their own works of art.
Outdoors: 42°F/25°F Sunny
Tiny Cottage: 69°F/61°F
Daily Spark: News Flash: Rome was built in a day! They just never finished it!