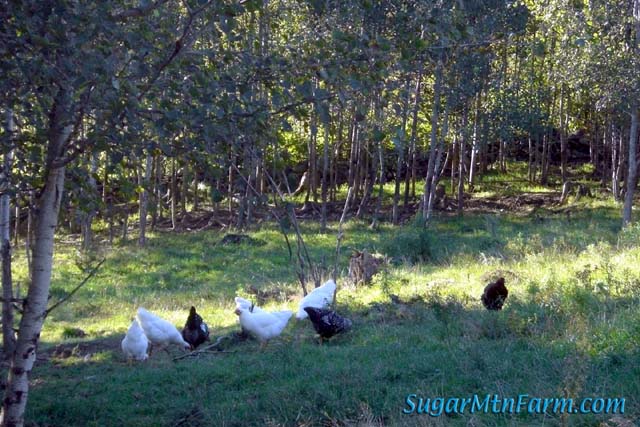 Chickens in Greener Pastures
This is a photo of some of our chickens out in the south field pastures during greener times. Right now that area is under about two feet of hard packed snow. We just got another eight inches of snow and an inch is predicted for tonight.
The south field is our oldest field. It was about half as big when we moved here over twenty years ago. We cleared it back to the original stone walls leaving the stumps of the regrown forest low cut so as not to disturb the soil layers and allow the nutrients to come back into the soil. It is a slower way than bringing in bulldozers but better – and certainly cheaper. Some of the stumps put up regen suckers which made for the small trees you can see here. The sheep and pigs trimmed the bottom branches creating an open grass grazing area under the trees. Truly delightful spaces for the livestock and us.
With the much larger clearing we did ten years ago and then again larger in 2009 we followed this same method. It will take ten years for the new pastures to be hayable fields as much of the south field is now and even then I am leaving spots of brush and trees for shelter. This creates a diversity of habitats both for our domestic livestock and for wildlife.
So there is greenery to remind me that not all the world is as white and refrigerated as our pastures. In as little as a month we should see earth and maybe even shoots of grasses popping up.
Outdoors: 50°F/25°F Sunny, 8″ Snow yesterday
Tiny Cottage: 64°F/58°F
Daily Spark: Never regret breakfast because you can't unscramble eggs and you can't make a pig out of bacon.