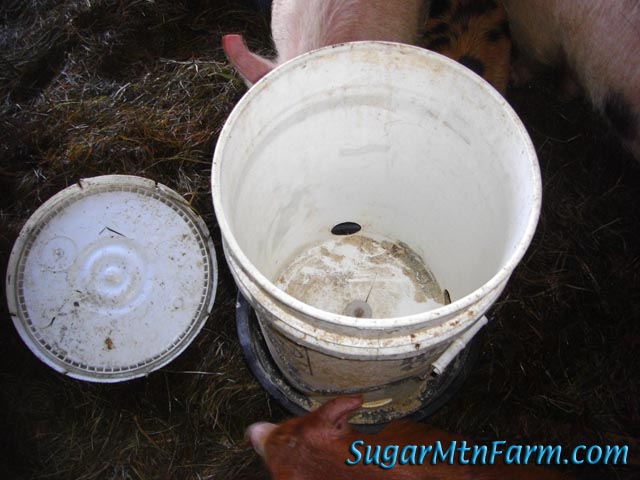 Five Gallon Chick Feeder
Someone had asked about the home made chick feeder in the photo back on the post about the arrival of the
chicks
. Commercial feeders are either too small or too expensive. But a five gallon pail bolted onto the lid of a barrel with some holes cut in the side does perfectly. The holes are about 1.5″ in diameter. There are four holes, one on each side. If the holes are too large the chicks waste a lot of feed. If the holes are too small then they don't get fed.
An added feature that I made but which isn't shown here is a metal cone that goes in the bucket. This diverts the feed out to the sides.
The bucket was free as it was left over from when I bought some food grade marine salt. The barrel lid was also free, left overs from a barrel. The nut, bolt and washer cost under 30¢. Bought new the parts would be maybe $1 all told. That's a heck of a lot cheaper than the $48 one I saw at the store. It also lasts great. This is over five years old, I think.
Outdoors: 32°F/4°F Sunny
Tiny Cottage: 67°F/61°F
Daily Spark: Warm Locally.