Sleeping with the Seven Silly Sisters
After a bit of a hiatus we've had a bunch of sows farrow piglets in a cluster. We've been spending many a night watching over the birthing process. There really isn't much we can do but occasionally we keep a piglet from wandering too far away from mom or help it get unstuck. Ben and Will, our teenage sons, have been taking most of the night time shifts. A good book and some music helps during the long dark night hours.
Seven Silly Sisters and Black Boar
The Seven Silly Sisters are a group of new gilts who just got bred. In about three months they'll be sows. A gilt is a female pig who has never given birth – e.g., the old Biblical meaning of Virgin. A sow is the name for a female pig after she farrows her first piglet. So this begs the question, what is she while she is in the process of farrowing that first piglet???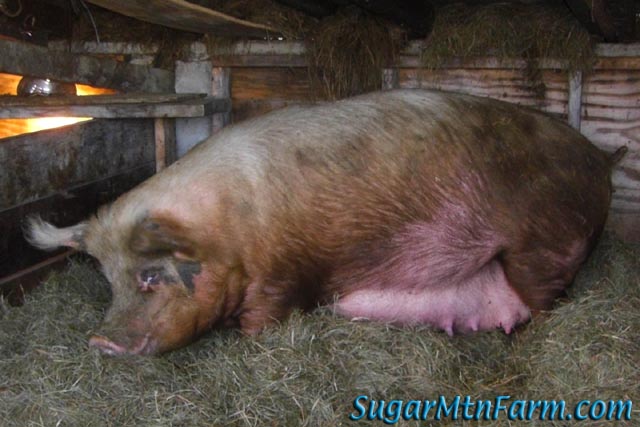 Flora All Backed Up and Ready to Go – Nest Building
Only a few gilts get to breed – those who are of prime quality, the top few. Even being superior conformation isn't enough. A sterile beauty is useless on the farm. She must breed and take. Yet even that is not good enough to win the coveted title of "Sow". Getting pregnant, of which only about 75% do, is still not good enough.
Flora, the sow in the photo above, is one of our short tailed sows. They have the double gene for short tails – we don't dock tails. She is a very experienced mother and this time she almost got to the record. She had 18 piglets closing in on Blackie who's had 19 and Emma, a daughter of Blackie, who had 22. Kudos to Flora!
Experienced Sow Flora Farrowing – Newborn Piglets
A lady must deliver the next generation to win and become a sow. The reason the distinction between sow and gilt is relevant is that the lady proves herself with that first litter. But she still has not won the final title of "Breeder Sow" yet. There are more qualifications. If she has a fine litter of many big healthy piglets that grow well and she demonstrates good mothering skills, housekeeping, nest building and has a pleasant temperament then she'll almost certainly stay on the farm.
Octavia's Piglets
Only about 5% of the female pigs get this opportunity. Out in the wild I calculate that the number is probably even lower, more like 1% to 3%. For males the odds are worse. On the farm about 0.5% stay to breed and in the wild it is likely about 0.05% to 0.2%.
South Field Shed under Blue Sky
Curious about more terms and facts of pigs? See our
FAQ
also known as
F
requently
A
sked
Q
uestions up in the title bar under the header photo.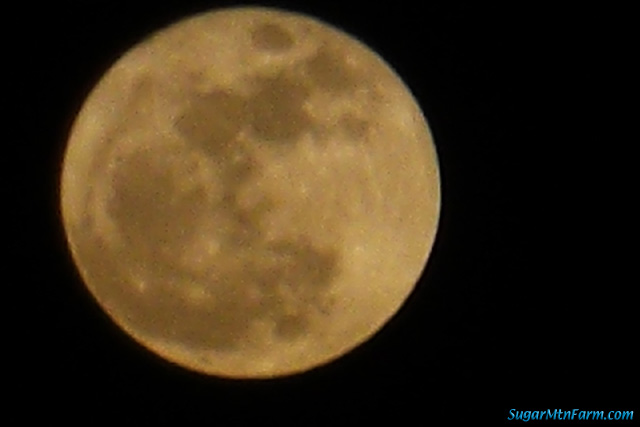 Saturday's Super Moon
By the way, the Seven Silly Sisters and the sows all snore like pigs and make other rude noises in the night.
Outdoors: 42°F/8°F Sunny, 2″ Snow
Tiny Cottage: 66°F/61°F
Daily Spark: Mob restaurant sign: Eat at Luigi's… or else!