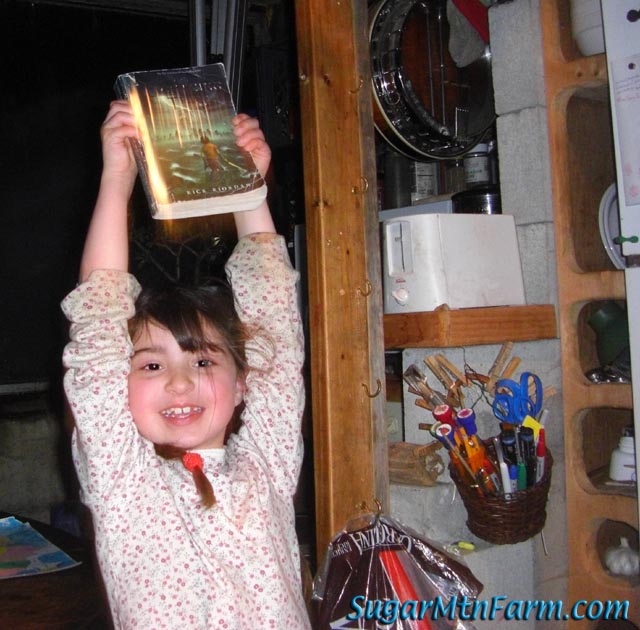 100 Pages in One Day!
We read a lot. We read to ourselves. We read to our children. We read aloud stories
after dinner
. It's a long tradition. Hope has been at that cusp of just being able to read for a while but not finding it easy. About a week ago she seemed like she was lifting off and jumping the hurdle. I suggested that when she could read 100 pages in a day, which I figured would come sometime in the next months, I would take everyone out for pizza. Going out to dinner is a very special treat.
Hope thought that was a grand idea and she read 70 pages that day. She was a little disappointed she didn't get to 100. I was amazed and I assured her I had not expected her to get there so fast.
Well, tonight she completed 100 pages in one day. Not only that, but she hadn't started reading until after chores at about 10:30 am and she was done by 9 pm! She was very excited. That is a major accomplishment. Hope noted with interest that as the week had progressed it became easier and that the 100 pages she read today were far easier to read than the 70 pages she had struggled to read a bit over a week ago. I explained it will get easier and easier and that in time she'll be reading hundreds or even thousands of words per minute. Reading is fun – it soaks ideas into our brains and gives us more ideas.
Note that this wasn't an easy big print child's book. This wasn't Dr. Seuss or See Dick and Jane Run. Hope chose to read "The Lightning Thief". This is like the Harry Potter series and other tween to young adult fiction. Does she understand every word? Close but when she doesn't she stops and asks for definitions or figures them out.
One of the cool things about this series of books is it teaches about Greek mythology. As part of our homeschooling we have been looking up the various legends on Wikipedia. Hope was turned onto this book by her good friend Coco.
Outdoors: 36°F/12°F Sunny, Light Snow Yesterday
Tiny Cottage: 68°F/57°F
Daily Spark: I love deadlines. I like the whooshing sound they make as they fly by. -Douglas Adams