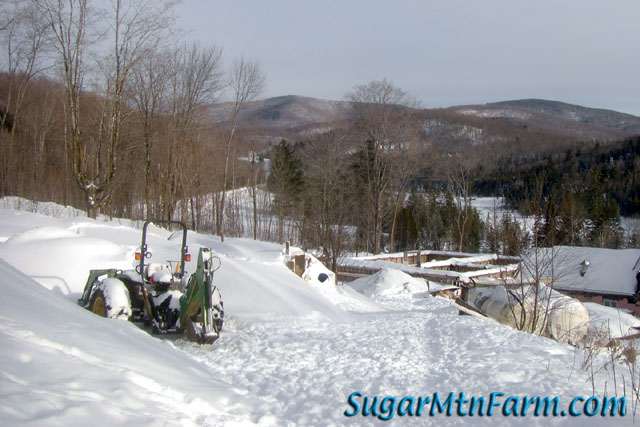 Snowscape
We spend much of our winter moving water. Not liquid water, that we should be so lucky. Rather we move frozen water, making tall piles to melt in the spring. A good winter has lots of snow because when warm days come that will slowly release into the ground to be soaked up in our water table. Without sufficient winter snows there is a summer time drought. This year we have gotten plenty of snow.
Where it is packed down the tops of the fence posts just show. That's 34″ to 48″ of dense snow pack I can easily walk on. In many places the fences are completely buried leaving a smooth white landscape. The pigs stick to trails they've kept packed. Even their 500 to 1,000 lb weight on sharp pointy toes is supported by the densely compressed snow.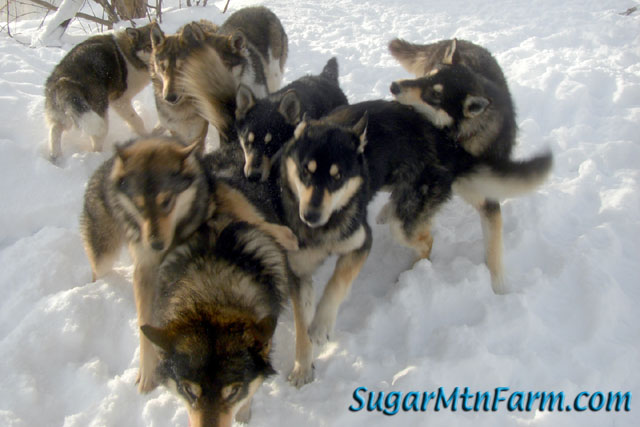 Woof Pack
That is Kavi, leader of the pack, being mobbed with wolf love. Everyone wants to give him kisses, wolf style, to get his attention, his approval. These are snow dogs. They're built for winter with their thick double coats. They love the snow. Even if they somehow get wet they dry almost instantly with a quick shake. It is really quite amazing. Just don't let them come in doors to do that shake!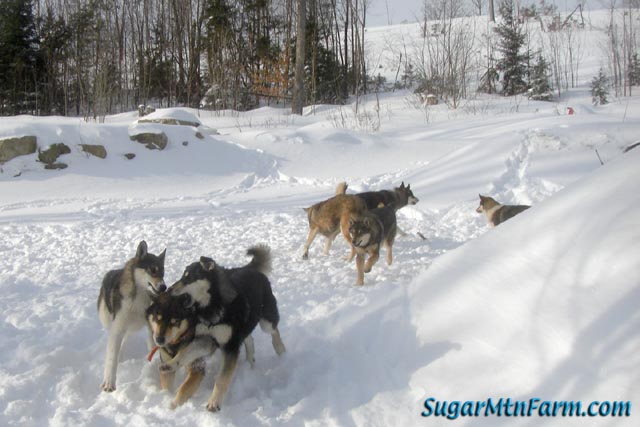 Kavi Tries to Escape the Jaws of the Pack
He's good with the puppies but sometimes they're a bit much, piling all over him. That is Remus on the left. His sister Romula is on the left in the first dog photo above. They are almost a matched set although he is much bigger than her.
I'm next!
As Kavi escapes he heads for me, bringing the pack with him. I'm next to be mobbed as I climb up the hill. It's a good mobbing. A mob of love. Snow pack on packed snow.
Outdoors: 34°F/32°F Mix of Snow & Rain
Tiny Cottage: 64°F/61°F Fire
Daily Spark: What's a cute snow monster? An adorable snowman. -WillJ