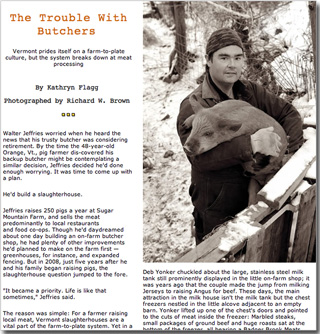 There's an article by Kathryn Flagg in Vermont Life Magazine titled "The Trouble with Butchers" featuring an interview with yours truely, moi! It's an excellent article that discusses the issues of getting meat from field to fork.
Kathryn had come out and interviewed me for the article late last summer and then photographer Richard Brown came for a visit later during our first snows to get some photos of the farm, pigs and myself. I must admit that I was nervous but they were both great to work with and put me, and the pigs, at ease.
In case you haven't noticed, take a look up in the menu bar where there is a "News" section. Click on that to see a list of news articles where Sugar Mountain Farm and its denizens were mentioned.
Outdoors: 37°F/30°F 6″ Snowy
Tiny Cottage: 64°F/60°F
Daily Spark: Someone said to me, "Farming is a business where you buy at retail, sell at wholesale, and pay the shipping both ways." Too true. Fortunately you get to play with your food!