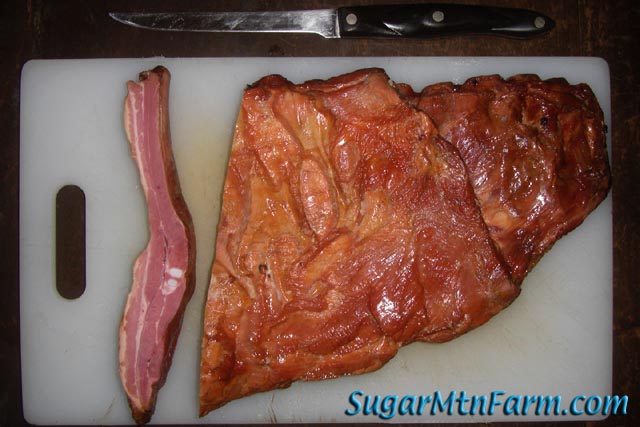 Smoked Meaty Ribs Slab
I didn't grow up eating a lot of spare ribs, neither St. Lous Style, Baby Back nor Kansas City. Not sure why but they weren't a big part of our family's meals. When we started selling pork in stores this was one cut with which I was not very familiar. Demand for the ribs is high in the warm months of spring, summer and fall but dies in the winter except for two restaurants that take some for occasional specials. This leaves us with ribs accumulating in the freezer each week during the cold months.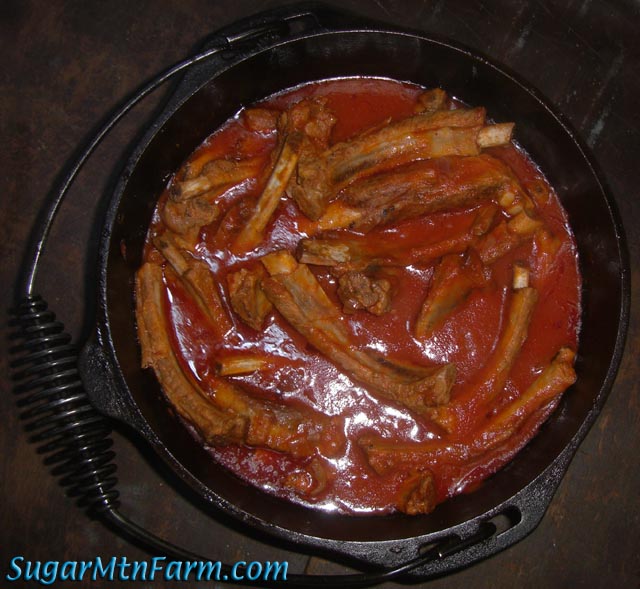 Pot of standard St. Louis Style Ribs & Baby Back Ribs
Since we had them in plenty during the cold months we learned to eat spare ribs and baby back ribs. These are the bones left over after making boneless pork chops (baby back) and fresh belly (spare ribs) which is then used for making bacon, salt pork, side pork and the like. There are substantial bits if meat between the ribs and it makes for great finger food. Fun eating – napkins required and not for when the
Queen is visiting
. Great with corn bread or potatoes too. With a long slow cook time in a BBQ sauce they are pretty good and the meat gets to the point where it is falling off the bones. I adapted a sauce of my mother's for this purpose.
But I wasn't satisfied. Regular spare ribs seemed, well, rather spare. What if we left the belly meat on the ribs and used those in a BBQ sauce? Hmm… With smaller pigs the belly is a bit small for making good bacon so we tried it with a few of them. In addition to cutting some fresh we also had some smoked to make Meaty Ribs both fresh and smoked.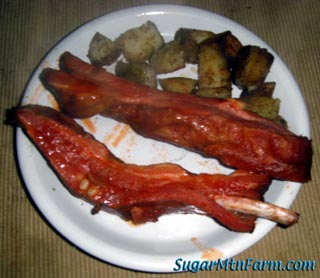 Plate of Smoked Meaty Ribs
Think bacon on a stick! In BBQ sauce no less! Yum! They are delicious and now perhaps one of my favorite cuts. The smoked Meaty Ribs are like a cross between bacon and ham in flavor. With potatoes and a winter salad (carrots, cabbage, etc) they make a filling meal.
That cast iron pot of ribs above is a control group of standard BBQ spare ribs. When we did our scientific taste testing† of the new meaty ribs we, of course, needed to make up all four varieties. Baby Back, St. Louis Spare Ribs, Meaty St. Louis Spare Ribs and Smoked Meaty St. Louis Spare Ribs. There is no option of a Meaty Baby Back Rib – that would be a pork chop. Hmm… interesting idea in BBQ sauce!
Pork Cut Chart – Click to Enlarge
The Meaty Ribs are cut like St. Louis Style ribs. The difference is that normally the butcher removes the fresh belly from the ribs to make bacon. The regular St. Louis Style spare ribs have the meat that is between the ribs. Good stuff but personally I love the Smoked Meaty Ribs. Unfortunately they are now selling out so I won't get to eat Meaty Ribs very often.
Types of Ribs: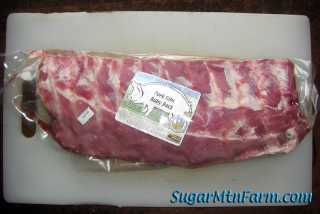 Fresh Baby Back Ribs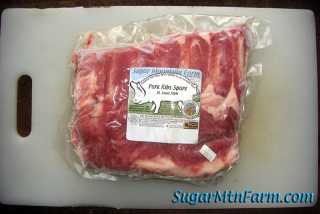 Fresh St. Louis Ribs
Fresh Meaty St. Louis Ribs
Smoked Meaty St. Louis Ribs
Slow Cooking

My personal favorite slow cook of pork is in Grandma Jeffries' barbecue sauce. This versatile recipe works with ribs, belly, ham cubes, shoulder, loin or pork roast.

Begin by cooking the meat for one hour at 300°F – longer for a large loin or roast. I like to use shallow oven safe glass cooking dishes or a cast iron dutch oven.

While the meat is cooking, prepare a sauce of:

1 chopped onion,
2 cloves chopped garlic,
1 green pepper

Braised in pork fat or olive oil. After 10 minutes add:

2 cup tomato (crushed, sauce or chopped),
3 tblsp of molasses,
2 tblsp vinegar,
1 – 1/2 tblsp Worcestershire or A1,
2 tsp mustard
some red pepper to taste.

Simmer sauce 10 more minutes and then spread on baking meat. Cover.

Bake 2-3 hour more. Check periodically and add a little water if it looks like things are getting dry. Let rest for before serving.

Alternatively: The chef The Alchemist Pub and Brewery, one of the restaurants where we deliver meaty ribs, likes to braise the ribs and then put them in a deep pot with his secret sauce and simmer them in the oven for four hours until tender.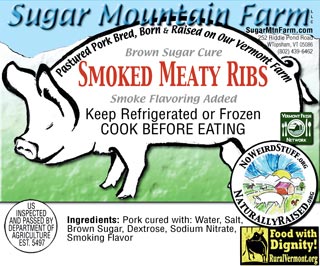 Look for the Label
Our meaty ribs are available both smoked and non-smoked (fresh) in local stores and restaurants as well as directly at the farm and on our delivery route.
If you don't see them on your store shelf or at your favorite restaurant, please ask the manager to contact us and order them for you. See the order form which is on the literature page for pricing and details. Note that the fresh ribs are pure pork, nothing added – perfect for your own smoking or other family recipes.
Outdoors: 32°F/2°F Sunny
Tiny Cottage: 59°F/57°F
Daily Spark:
Pastured pigs are gruntled.
Factory pigs are disgruntled.
†Don't you absolutely love eating in the name of science!?!