Bear Chair if you dare!
In Barre, a city founded on the quarrying and carving of granite, they have a snow sculpture contest every year. Rather than making outrageously bigger and bigger sculptures every year they keep it fun and tame, something families and groups can enter in.
Iced Cupcake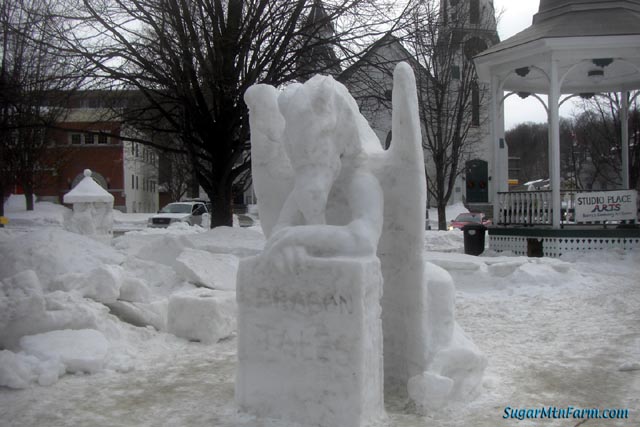 Dragon Tales
Shark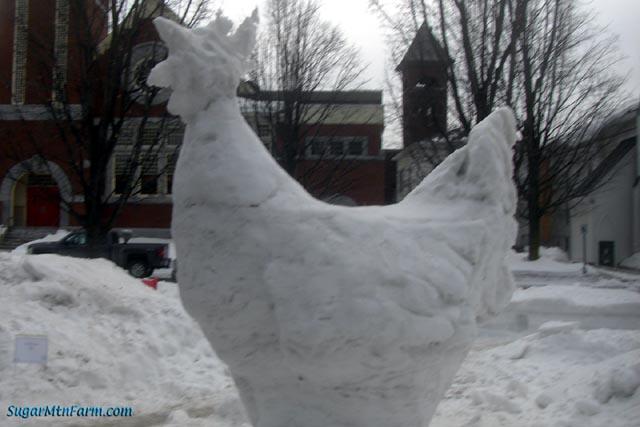 Chicken
Hen a Laying
Concrete Forms used to Pack Cubes of Snow
Bearded Ice Man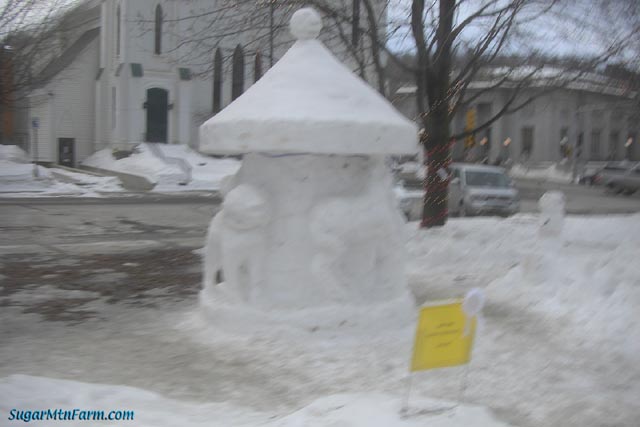 Carrousel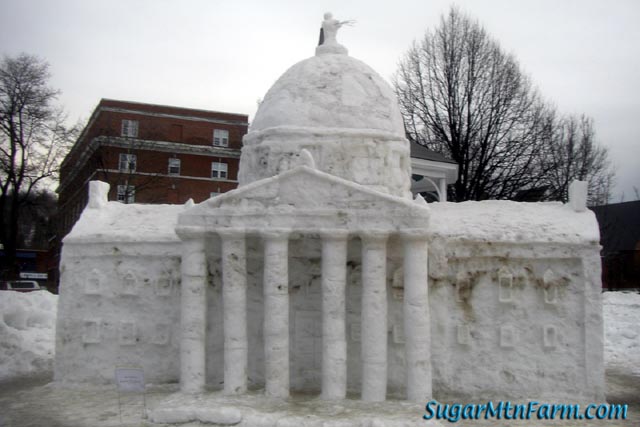 Capital Building
This was a very big sculpture that you could actually walk inside and look up at the dome which had been done igloo style.
Naked Butt Guy
You might think that Barre is a conservative little town out in the sticks but they have avant guard naked butt guy art. Witness the warrior. But in all seriousness, do ponder the inscription below.
Youth Triumphant Granite Sculpture Inscription
Dedicated To The Patriotic Spirit And Sacrifice Of Our Country's Youth
They Shall Not Grow Old As
We That Are Left Grow Old
Age Shall Not Weary Them
Nor The Years Condemn
At The Going Down Of The
Sun And In The Morning We
Will Remember Them
Barre Panorama
This is the view seen by the warrior in his eternal kneeling vigil as he watches downtown Barre, Vermont.
Zoom in on the panorama by clicking on it. Zoom in even deeper.
Questions of the day:
Can you find the man and his twin?
Where is the library?
Noticed the beautiful burned out and gutted building owned by the mayor. Unlike in the Tom Lehrer song it was not the mayor's son. Do you know the song? Did you go to school with the singer and composer?
Outdoors: 24°F/12°F 8″ Snow
Tiny Cottage: 65°F/59°F
Daily Spark: "During many ages there were witches. The Bible said so. The Bible commanded that they should not be allowed to live. Therefore the Church, after doing its duty in but a lazy and indolent way for 800 years, gathered up its halters, thumbscrews, and firebrands, and set about its holy work in earnest. She worked hard at it night and day during nine centuries and imprisoned, tortured, hanged, and burned whole hordes and armies of witches, and washed the Christian world clean with their foul blood. Then it was discovered that there was no such thing as witches, and never had been. One does not know whether to laugh or to cry."
-Mark Twain