It does look like the links to Cole's CD of have become deadwood. Here is a link on Amazon to the book Gourmet Butcher's Guide to Meat which includes the CD.
Evening at Michael's On The Hill for Cole Ward
Tuesday was a very packed day for us. In addition to
town meeting
we had been invited to the launch event sponsored by the Lamoille Region Chamber of Commerce for master butcher Cole Ward's
Gourmet Butcher DVD
series at
Michael's on the Hill
restaurant in Waterbury, Vermont.
There was a huge turnout from the media with reporters, photographers, videographers and journalists from all over Vermont and at least as far away as New York, maybe further. Added in was several couple of handfuls of us local farmers to flavor the mix. In other words, the place was packed. The food was delicious.
As you may know from reading previous posts about butchering classes my wife Holly, our son Will and I spent eighteen months apprenticing with Cole Ward, learning to do commercial meat cutting in preparation for opening our own on-farm butcher shop. During that time we shot a lot of video with our two digital cameras but the sole purpose of that was so that we could record what we were doing and go over it later. I always thought someone should make an educational video series based on Cole to document and preserve his 45 years of experience as a master butcher. The good news is someone has and the DVDs are now out and on-sale and the price is right at only $30.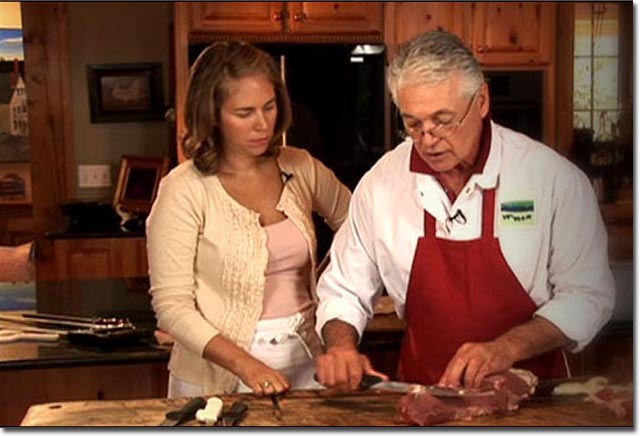 Introduction of Cole & Courtney for Video Premier
When we got there we met
Chef Courtney Contos
, the chef with the pink belt in the photo at the top. She is a friend of Coles, provides cooking tips through out the video and makes great banter with the master butcher as they slice and dice their way through four hours of beef, lamb and pork.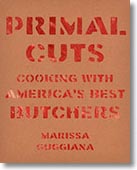 Primal Cuts book
by Marissa Guggiana
Next Cole introduced us to Lena Tabori, publisher of Marissa Guggiana's book,
Primal Cuts
about the top 50 butchers in America. Of course, it features Cole Ward!
Someone from the event asked how our family ever fit building our butcher shop, homeschooling, farming and apprenticing with Cole into our schedule. Well, yes, it was challenging. Basically, when Cole called us up and said he had a pig to cut we came a-running!
It worked out to be about every two weeks or so that we would go to Cole's butcher shop and cut meat. It was somewhat simplified since we focussed just on pork because that is going to be the initial animal we do at our facility – we raise pastured pigs au natural.
The first time we simply watched as he did a half pig. Then on the second half of the pig we got our hands into the process, following along with Cole. The next session we did it along side him again, slooowly, but doing more of the work. Initially it was a whole day thing as we took our time and went cautiously focusing on gaining skills.
After a few classes got to the point where Cole simply gave us the work order sheets when we arrived and we did the work with him coming and checking on us, making pointers, etc but us doing almost everything. Now we were apprentices doing the real work while Cole could be freed up to other tasks.
As the months passed we began working on gaining speed too. After a while we would come in, cut up a pig and be done in an hour, then 40 minutes. That was three of us working on a tiny 2'x4′ table with only three knives. We'll be even faster with less crowding, our own space and more practice. Practice makes perfect.
For us the DVD is a great review, a chance to see Cole doing the whole thing start to finish. It will also be very interesting to watch the lamb and beef sections as well as the pork cutting which we know so well. This is a great resource for homesteaders, farmers, cooks and anyone who wants to know what goes into cutting even if they don't ever get their hands wet.
I hope that Cole makes additional videos on sausage, hot dogs and other specialty value added products. The very fact that a DVD exists means that some of his knowledge is now preserved for future generations. This is important as all too much of the old skills are lost as the last generation retires.
Recommendation: Buy the Gourmet Butcher DVD now!*
Speaking of butchering, also check out Cole's new blog Cole's Cuts
Outdoors: 24°F/-13°F Sunny
Tiny Cottage: 62°F/56°F No Fire
Daily Spark: Vite, vite! Eat the feet meat treat! -Katya
*Yes, this is a whole hearted, unabashed promotion of Cole. I love what he's done with his hare. And the pork, beef and lamb too!