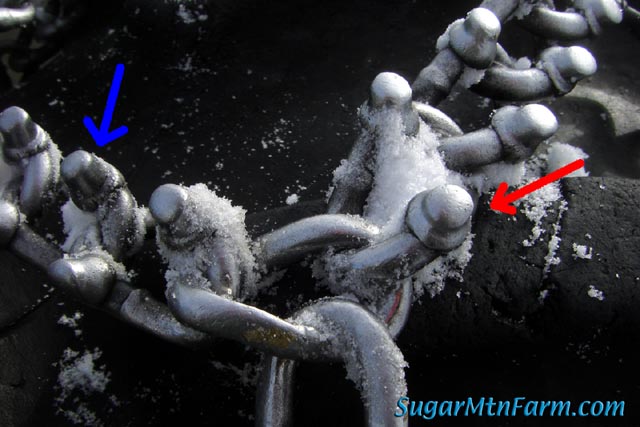 Tractor Chains
When we got our
tractor
in 2001 to dig the water line I bought heavy duty ice chains for the rear wheels. I leave those chains on all the time. In addition to giving traction on ice they protect the soft rubber of the wheels from the sharp rocks of our mountain fields.
So, how does hardened steel hold up on snow, ice and rock? Very well it turns out. After almost ten years of wear I would estimate I have another ten years of wear left in those chains. Given that a single tractor tire is more expensive than both chains put together this is a good investment in prevention of wear.
In the picture above the blue arrow points to an almost unworn point and the red arrow points to a seriously worn stud. Location, location, location. The ones bearing weight at the tire treads get more wear. Keeping the chains tight and the tires fully inflated helps reduce wear and tear. Not spinning your wheels on ledge also helps reduce wear. Likewise not driving on asphalt or concrete helps preserve the chains. I'm sure the town appreciates that too. Fortunately we have a dirt road that is unlikely to ever get paved. I like it that way.
On the other hand, the front tires have significant wear. I wish that I had gotten chains for them too both to prevent wear and because sometimes in the winter I sideslip in the front due to the lack of chains. I run the tractor in four wheel drive most of the time as our conditions warrant that. Half our world is snow and ice. The rest is up and down. We have very little smooth and level terrain. Thus the front wheels are doing their share of work and the front tires are wearing noticeably more than the back from cuts against rocks. I have tubes in the front to fix two flats I've had with them.
Side Chains
The chains lower on the side of wheel don't make much contact with the ground and still show a tiny bit of their original green paint which quickly wore off of the tread surface. They do get a little wear when I'm in mud which is why there isn't much green paint after almost a decade. Notice the rust. The wear on the treading surface in the first photo keeps those parts of the chain shiny.
Outdoors: 24°F/2°F Snow 6″ today, 10″ Friday, Sun on Saturday
Tiny Cottage: 64°F/57°F
Daily Spark: Carrot – what happens to the underbody of your automobile in Vermont.