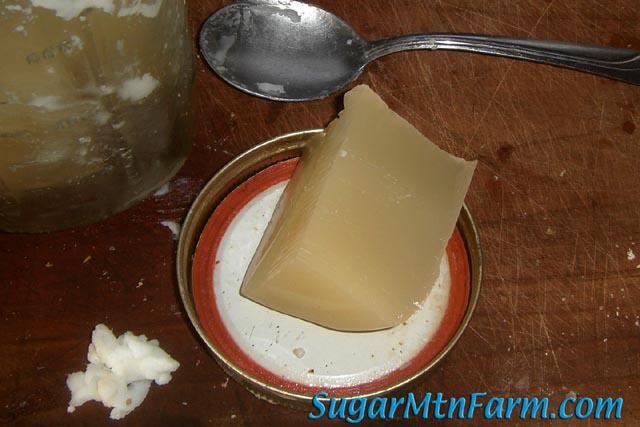 Pork Jello
When making
lard
for
cooking
we heat the back fat at a low temperature for a long period of time which renders the fat into a liquid which we drain off into mason jars. At the top of the jar the fat floats up and becomes a snow white lard which is wonderful for cooking.
Because the fat is skin on there is more protein so at the bottom of the jar is a translucent section of protein that solidifies into gelatin. We haven't been using the gelatin in cooking much, although it would likely be great in stews or soups for thickener and very nutritious. The dogs love getting chunks for treats. I find it tastes rather bland.
So there I was, I was fooling around with the gelatin at one point and ran it through the beaters. This introduced air, much like whipping up cream. The result was a stiff, rubbery plastic like material. I put the hot taffy into molds and made… All Natural Pork Hockey Pucks! Ta-da!
"Surely he jests," you say. No, seriously! They bounce great! Not only that but a drop of beet juice and they're red making them easy to find in the snow! Voila! – Our new product, All Natural Edible Pork Hockey Pucks!
Well, no, I'm not going to market them but it is an interesting discovery. I do love serendipity. Just think of all the possible products: gummy bears, rubber bands, car bumpers, pavement binder, etc. A replacement for petroleum!
Outdoors: 12°F/-1°F Sunny
Tiny Cottage: 65°F/61°F
Daily Spark: "I want to say one word to you. Just one word. … Plastics." -Mr. McGuire in The Graduate
*Pork Hockey Pucks are not the same as PHP