Frost on Space Spider Webs
Stepping out of our
Tiny Space Ship
the wisps of atmosphere drift outward into space in a billowing white cloud of frozen water vapor around our space suits. The space spider's silken strands seek to snatch the escaping crystals – nothing is wasted. We waddle awkwardly across the Martian landscape to do chores in the four billion degrees below zero temperatures.
Weather not fit for Man nor Beast nor Machine
No, actually, it wasn't that cold. In fact, it didn't even get to the 27°F below that had been predicted. Last night I measured 16°F below zero as the low and was thankful. That's 27°C below zero for the Fahrenheit challenged or a balmy 240°K for those who spend their time in space and prefer absolute Kelvin.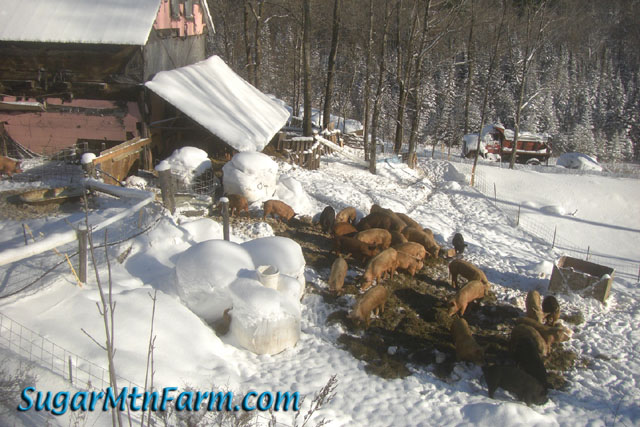 Pigs on a Warmer Day
Still, with the wind it felt a lot colder. Had you been here you would have seen us dressed in full insulated work suits with four layers, ear flap hats, goggles, gloves and thick boots. Chores were to be done as soon as possible and everyone was in by 11:40 am. Fortunately by noon it warmed up to zero in the intense sun of the cloudless day on northern Mars.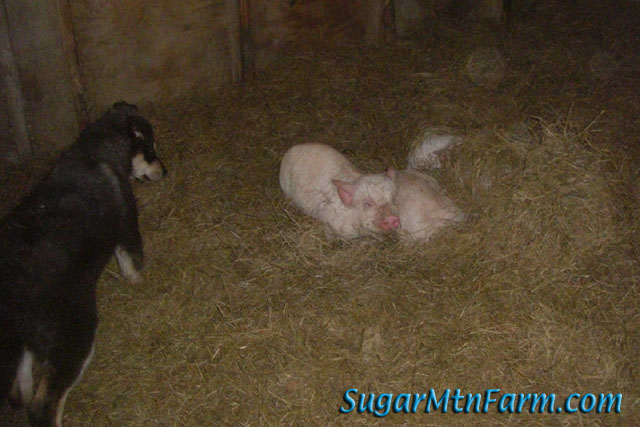 Dirkholm Learning About Pigs
The pigs, ducks, chickens and geese didn't even consider getting up and greeting me as I did morning rounds. All of them were snuggled into the fresh hay we have been putting out in extra abundance these past few days in anticipation of this ultra-cold weather.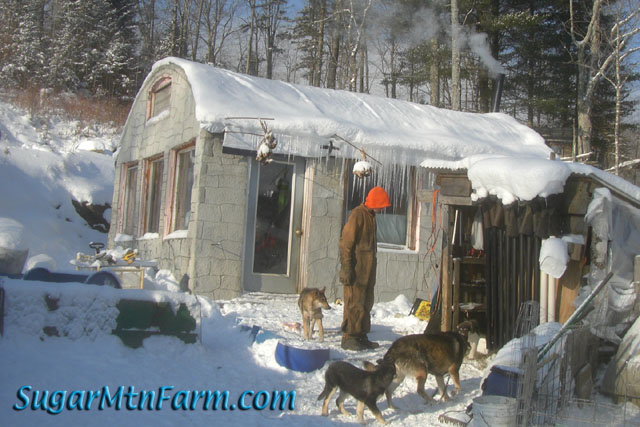 Ben, Dogs and our Space Ship
The dogs on the other hand, with their thick double fur coats and hyper metabolisms, were zipping around all over the snowscape on their jet packs, hopping from asteroid to asteroid, crater to crater. The deep cold of outer space, or even Vermont winters for that matter, never seems to bother them. They just curl up on top of a snow bank for a break where they can see everything and gradually get covered by snow, vanishing from sight. The surface of their fur is so insulating that snow doesn't melt on them. When they get up they leave a ring in the snow and almost no icing. Using my temperature gun the dogs appear to blend in Infra-Red with the background letting out almost no waste heat except from noses and eyes. Then they give me a wide glowing grin – Nobody here but us snow spirits!
Outdoors: 5°F/-16°F Sunny, Winy
Tiny Cottage: 69°F/59°F
Daily Spark: Perhaps Hell is a cold place above the ice and heaven is the warmth below, protected from the fierce winter winds.