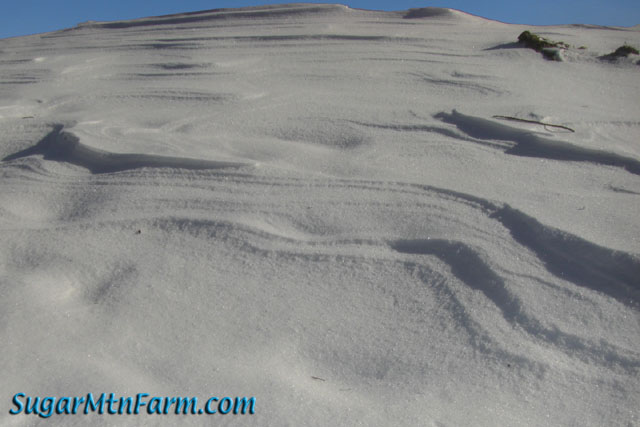 Wind Blown Snowscape
In the news we read about places south of us getting 30″ or more of snow. It didn't work out that way here. We got zero to 60 inches of snow. The variance is because the winds were so intense. In many areas of our fields there is little snow cover as a result of the snow devils dancing up and away. The snow that was scoured from those areas was dumped in the lee of wind breaks such as rocks, buildings, bumps and trees leaving deep drifts you don't want to step into. They look solid… Last year I sank the tractor in one of those. The tractor sank down but never hit anything solid – it was just floating in the snow and I couldn't move it. We had to dig it out by hand. Fortunately we could dig a road for it downward along the slope of the hill.
The wind 'plowed' the driveway this time. I just had to touch up a few spots and sand. Every time I see that happen it makes me think about how to adjust the curves of the driveway and wind blocks to use that effect. At this point I've got it so the wind is clearing about 90% of the driveway. Impressive. Unfortunately, or fortunately, most snow storms don't have the accompanying high winds that make this possible.
All of our animal shelters are situated such that they are in wind protected spots. Trees, brush and the dips in the terrain lift the wind up over the livestock winter sheds. This makes a huge difference for the animals and for us when we're out doing chores in the high winds. Wind protection and plenty of bedding are the two most important things the animals need in the winter.
Today and yesterday were a pleasant change. No wind, sunshine, yet still cool enough to not have to deal with wetness. I like.
Outdoors: 27°F/15°F Sunny
Tiny Cottage: 69°F/62°F
Daily Spark:
When I get up in the morning I put my pants on like anyone else, backwards. -Calvin
When I get up in the morning I put my pants on like anyone else, two legs at a time. -Holly
Pants? -Walter