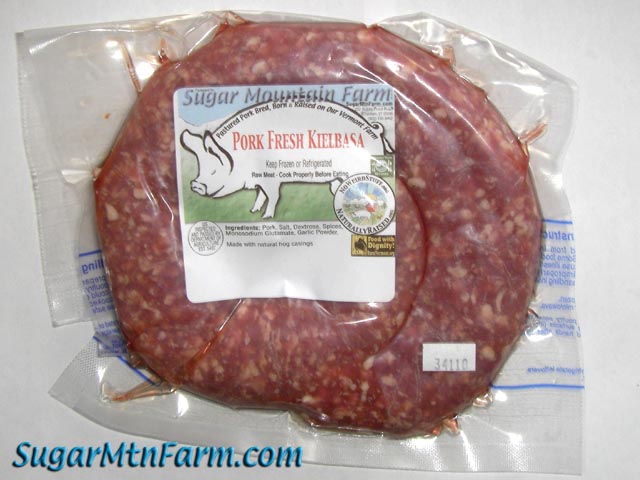 Sugar Mountain Farm Fresh Kielbasa
Our fresh kielbasa is back in stock and now regularly available at
stores
and
restaurants
on our weekly delivery
route
. The kielbasa comes in one pound packages.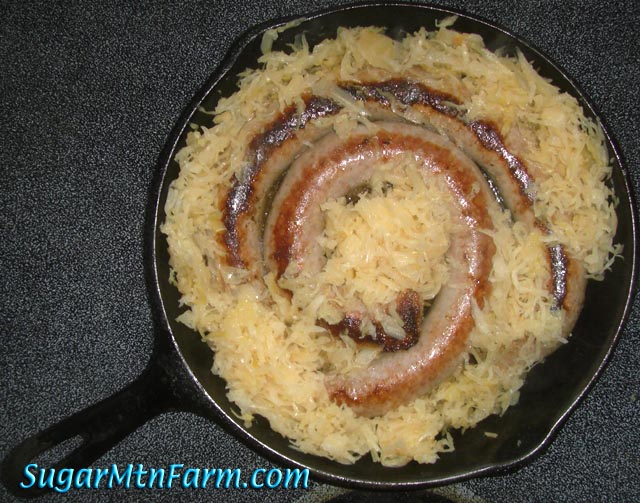 Walter's Favorite Kielbasa Dinner
I love kielbasa and sauerkraut. I start by putting a little lard or butter in the frying pan and then browning the kielbasa. After flipping it and letting the second side brown a little I add in the sauerkraut (pickled cabbage) and put a lid on it to let the entire thing come up to heat. Serve with mashed or fried potato pancakes, beets and winter salad.
Note that the Kielbasa does have MSG. Unfortunately that is the formulation our butcher has approved with the FSIS/USDA and we can't change it currently. Being able to control these things is one of the things we look forward to when we have our own on-farm butcher shop.
Outdoors: 18°F/-3°F 3″ Snow
Tiny Cottage: 68°F/62°F
Daily Spark: I saw a woman walking a pair of guide dogs on the street and asked her why she had two. She looked at me and replied, "I'm blind in both eyes."