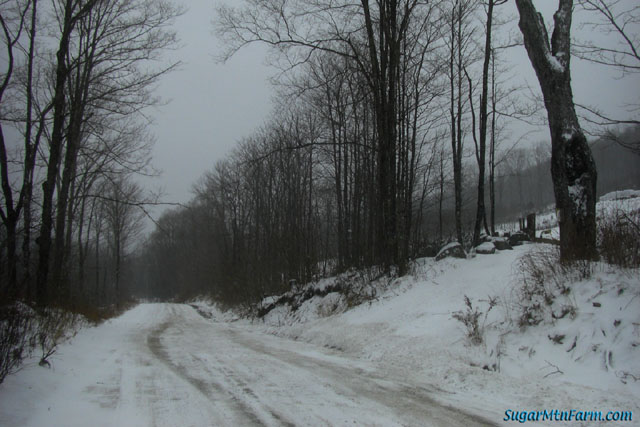 The Road Less Wisely Travelled
Some people consider our road a short cut. Yes, as the crow flies it
is
a shorter distance from Rt-302 to Rt-25 but between having to slow down, sharp corners, intense up hill climbs, steep down drops and the damage the pot holes will do to your vehicle our road is really not a short cut.
Especially in bad weather it is far better to stick with the main roads and avoid the path less travelled. A single accident will make up for any minutes saved over the course of a lifetime of taking short cuts. Stick to the highways during snow storms and save the scenic route for the nice weather when you can really enjoy it.
The Road Not Taken
by Robert Frost

Two roads diverged in a yellow wood,
And sorry I could not travel both
And be one traveler, long I stood
And looked down one as far as I could
To where it bent in the undergrowth;

Then took the other, as just as fair
And having perhaps the better claim,
Because it was grassy and wanted wear;
Though as for that, the passing there
Had worn them really about the same,

And both that morning equally lay
In leaves no step had trodden black
Oh, I kept the first for another day!
Yet knowing how way leads on to way,
I doubted if I should ever come back.

I shall be telling this with a sigh
Somewhere ages and ages hence:
Two roads diverged in a wood, and I
I took the one less traveled by,
And that has made all the difference.
Outdoors: 24°F/5°F 2″ Snow
Tiny Cottage: 62°F/59°F
Daily Spark: The sum of all our decisions is what turns the plenitude of possible futures into the line of history at the singularity of the present.