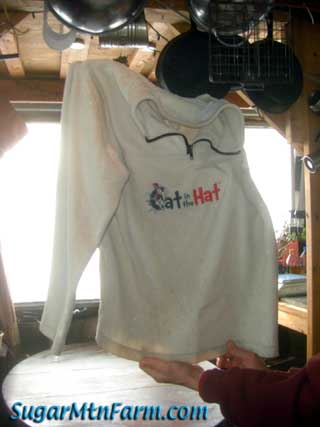 Stiffy the Standup Shirt
This shirt was in the ice storm and then the subsequent freeze all out on the laundry line. It didn't dry. Or at least the water content didn't go down. Rather now it is filled with water in the solid form, so much that it could do stand up comedy routines.
Today we lost all of our snow, it rained hard, the winds picked up, the snow returned. We got in a new water line buried down the mountain. A reprieve from winter when the ground was soft enough to dig.
Outdoors: 50°F/16°F Drizzle, Rain, Hail, Sleet, Drenching Rain, Rain, Drizzle, Winds, 3″ Snow. Interesting weather.
Tiny Cottage: 65°F/59°F
Daily Spark: If you're bored with the weather just wait a moment.