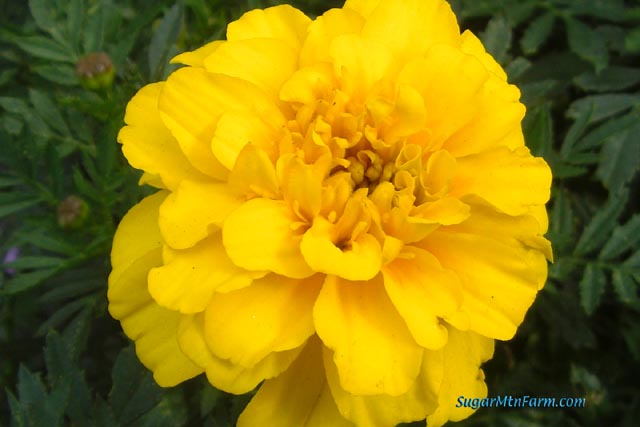 A Spot of Color – Click for the Big Picture
The color seems to be draining out of the world as we move into late fall towards winter. Greys and dull browns are dominating the view in the few remaining hours of daylight. We get up in the dark and often find ourselves working by moonlight. Thankfully it has been a full Moon. This photo from the warmer days is a reminder that there is color and hope that the Sun will return.
Ben and I repaired the wiring in the van and found the two blown fuses that had resulted. Ford needs to learn about "Built for Maintenance" for their equipment – even in a huge van like ours the fuse box and other things are way too cramped.
We just got our third delivery of winter hay. Squares are all here plus two small groups of rounds. More to come. It looks like we should have enough hay for the winter even with the expanded herds. This will make the animals, and thus us, very content. Happiness is a warm, dry bed of hay.
Progress on the west shed roof continues in the south field. This is where we beamed up the other week. We should have the roof done by this weekend and then can start on the weaner greenhouse. Progress on the front of winter housing. Ecstasy is a warm, dry bed of hay behind a wind block.
Additional reading:
Portable Sow Hut
Greenhouse Walls Inner Forms
Winter Farrowing Ideas
Musical Housing
Winter Pig Dens
Winter Coop
Edit: At first I thought the flower is a chrysanthemum also called a "mum" for short. I took the photo outside one of our customer's restaurants – the Alchemist Pub in Waterbury, VT. But sharp eyed Pablo came to my rescue and suggested that it is really a marigold and I think he may be right based on the leaves in the background.
If you like food and freedom then Fight S.510.
Outdoors: 50°F/24°F Drizzle
Tiny Cottage: 66°F/53°F
Daily Spark: "A free people ought not only to be armed and disciplined, but they should have sufficient arms and ammunition to maintain a status of independence from any who might attempt to abuse them, which would include their own government." -George Washington