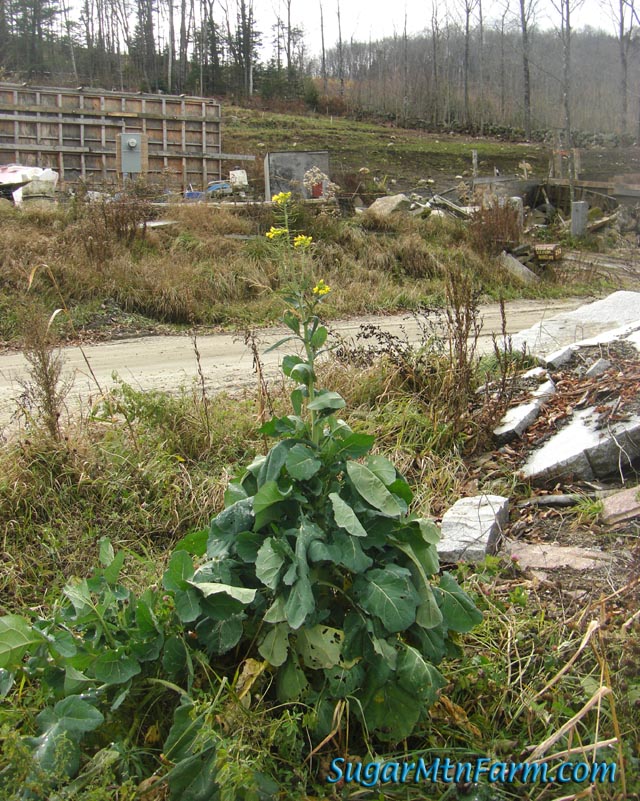 Athena Rape
This year we broadcast frost seeded Siberian Rape (ruffled leave not shown) and Athena Kale (smooth leave above) among other things into both the new pastures that used to be forest and the old pastures. The kale and rape did great. This is a typical example.
This one happens to be across the road on the log landing where the livestock can't get to it so it grew unfettered all summer and has set seed. It will be interesting to see if we get reseeding volunteers. We have volunteer tomatoes, pumpkins, tomatillos and other plants that are not supposed to be able to do this in our climate without human intervention. They have adapted and been selected over the years. Due to the nature of managed intensive rotational grazing some of the areas did set seed even where the animals grazed.
One of the things that was a bit of a surprise is the pigs ate the leaves of the rape and kale but left the crowns and roots to regrow – which they did. They didn't take the main stalks until late in the season which means they ate the mature seeds – and spread them.
The specimen in this photo is about five feet tall. These are still thriving despite our many hard frosts. I like that in a plant. These cole crops are a highly nutritious browse that increased the protein content of our pastures. These along with the legumes like alfalfa, clover and the hazelnuts all make great animal feed that we can grow ourselves on our farm for our animals reducing off farm inputs. That saves money but also makes it so we know the source and quality of the feed that goes into our pastured pork.
The kale and rape did so well that I wish I had planted broccoli and cabbage.
Outdoors: 46°F/26°F Partially Sunny, Light snow flurries in the evening
Tiny Cottage: 69°F/64°F Fire
Daily Spark: